Using traditional Chinese paper cutting pattern, this unique and elegant wedding invitation card is created. A husband and wife walking side by side together to symbolize the good fortune for the couple that they would stay together forever.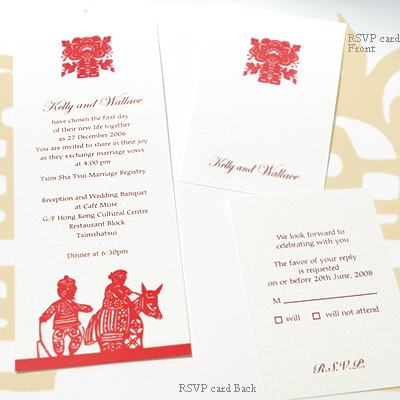 The paper cutting pattern is in red color. Again, this is a Chinese color which means fortune. As discussed, the pattern is a blessing for the couple. The paper is pearlized white in color. An alternative to this white color base is yellowish gold color. This can be done on request.
Besides the paper cutting pattern signifying the bride and the groom, there is also a double happiness on the card. It is also red in color. The double happiness pattern is on the top while the other pattern is at the bottom. Usually, the wording or content of the wedding will be printed between these too patterns.
---
Invitation Specifications
Product No.: SC52288
Sizes
Invitation: 3.6″ (W) x 9.4″(H) single card
Envelop: 3.9″ (W) x 9.8″ (H)
Paper Stock
Card: 300gsm Creamy color pearlised paper
Production Detail
Full color printing on ONE side (if a bilingual wedding card is need, it can be changed to full color printing on both sides)
Remarks:
1. R.S.V.P. card, place card, menu, church program & thank you card would be order with same design.
2. Return address would be printed on invitation and R.S.V.P. envelop on requested.
3. The design can be modified into a folded card if it is needed.
It is also possible to make a square invitation with this design. The wording will be printed at the back of the design. The size of it will become 150mm x 150mm. The names of the couple can be printed underneath the double happiness pattern. This will help you to personalize the invitation.