A gold color paper strip printed with floral patterns is put on a piece of deep red paper with texture. The contrast of red and goal is the essence of this wedding card design.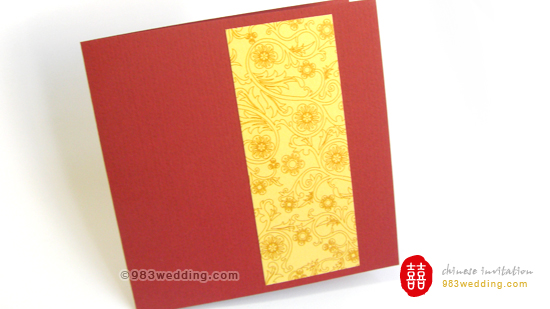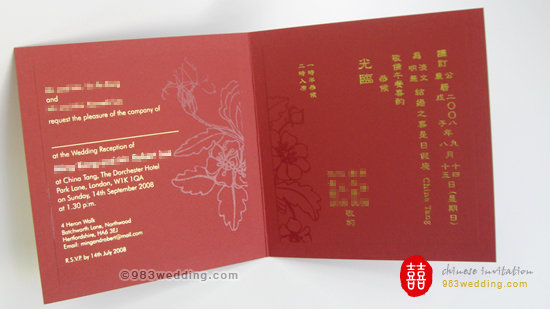 The Contrast Between Gold And Red
The main color theme of this wedding card design is red. However, instead of using very traditional brig red color, a darker red color is adapted. In order to express the color contrast, a gold color strip is glued on the cover of the card. Abstract floral patterns are printed on the strip to make it richer. Since the main focus is the color contrast, we leave the red color part empty on the cover.
To make it a personalized wedding invitation, the word "INVITATION" shown on the photo can be changed to Bride & Groom's Name or something that represent can you two. The card inside is mount with another deep red texture paper printed with invitation content. The wedding invitation is all about "RED-richness".
The wording are printed with gold foil. Another floral pattern is printed on the insert. However, instead of gold color, it is printed with red. The idea of "red on red" enhance the notion of "RED-richness" of the insert.
---
Invitation Specifications
Product No.: MC18002
Sizes
Invitation: 5.9″ (W) x 5.9″(H) after folded
Envelop: 6.2″ (W) x 6.2″ (H)
Paper Stock
Cover: 280gsm Freelife M. RED color paper
Insert: 140gsm Freelife M. RED color paper
Production Detail
Cover glued with gold color paper strip with full color printing. Insert with full color printing and glued on card inside. (Chinese and English language, or any two languages would be printed)
Remarks
Return address would be printed on invitation and R.S.V.P. envelop on requested.
R.S.V.P. card, place card, menu, church program & thank you card would be order with same design.