A modern Chinese wedding invitation design with a pocket. You can put separate cards into the pocket so that you can show all the information about your event to your guests.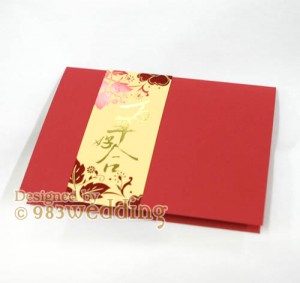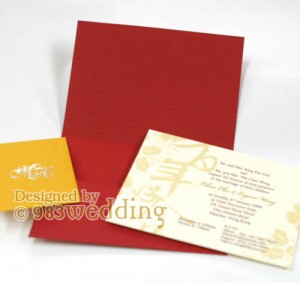 A Red Pocket To Announce Your Big Day
Sometimes you will need to put a lot of information on your wedding card. For example, if you are going to have a wedding overseas, you may need to include things such as accommodation and points of interest on your invitation. You will not be able to put all the information on a single wedding card. It will be a better idea to have an invitation with a pocket so that you will put the information in a few single cards.
In this design, the pocket or folder is red in color. There is a golden strip on the red pocket. This strip is featured with fruitful leaves and Chinese calligraphy which create a traditional Chinese cultural look. The Chinese words "百年好合" (which means happiness and being together for hundred years) is a very good blessing to the couples, blessing them to stay in love with each other forever.
It is possible for you to has a card in Chinese and another single card in English. It is even possible to have the wording in a third language. Besides, you can also include a map card. If it is necessary, a card with accommodation information can also be included. Without any surprise, an R.S.V.P. card can also be printed and put into this red pocket.
---
Invitation Specifications
Product No.: MC18015
Sizes
Red pocket: 6.8″(W) x 4.9″(H)
Invite single card: 6.5″ (W) x 4.7″(H)
Envelop: 7.3″(W) x 5.3″(H)
Paper Stock
Pocket: Red color pocket holder
Invitation single card: 300gsm TP opal paper
Production Detail
1. Red pocket glued with gold strip (with gold & red color hot stamping) and insert with full color printing on BOTH sides.
2. The original design comes with two single cards in the pocket. More cards can be printed if it is needed.
Remarks
R.S.V.P. card, place card, menu, church program and thank you card would be ordered with same design
Return address would be printed on invitation and R.S.V.P. envelop on requested.