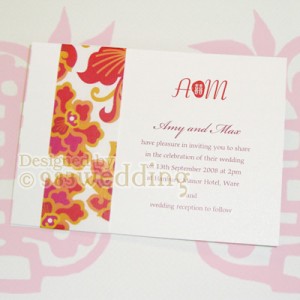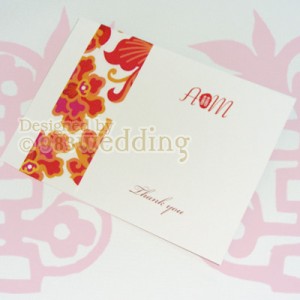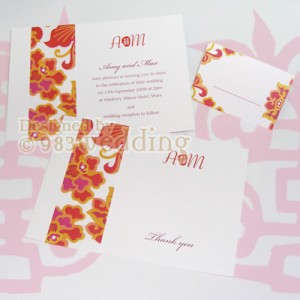 It is common for brides and grooms to consider using a simple single panel wedding invitation. A single card is a good option as long as you can put all the information on the card. This kind of design is usually simple. For this invitation, we also aim at creating something simple yet elegant.
The main color scheme of this wedding card is white. What we are trying to do is to create a modern Chinese single panel wedding card. As a result, elements such as red color and double happiness are used.
We have add a paper strip to the card to make the design richer. Beautiful red color floral pattern in Chinese style is printed on the strip. The strip is then wrapped around the card. The strip is the main focus and decoration of the invitation.
The initials of the bride and groom and printed at the top of the card. In order to connect the two initials, a double happiness symbol is used. The symbol, in the form of a chop, is put between the two initials. On one hand, it ties the two initials together. On the other hand, the deliver a sense of celebration.
Matched R.S.V.P. and place cards can be produced together with this invitation. Usually, there will be no strip for the R.S.V.P. and place cards. Instead, the floral pattern is printed directly on the other items of the stationery. This makes the invitation to stand out a little bit from the other stationery items.
---
Invitation Specifications
Product No.: SC52290
Sizes
Type of Invitation: Single Card
Invitation: 6.9〃(W) x 4.9〃(H)
Envelop: 7.3〃(W) x 5.3〃(H)
Paper Stock
Cover: 240gsm pearlised paper
Paper strip: 74gsm white color paper with texture
Production Detail
Cover and paper strip with full color printing on ONE side. Paper strip wrap around the card.
Remarks
Return address would be printed on invitation and R.S.V.P. envelop on requested.
R.S.V.P. card, place card, menu, church program and thank you card can be ordered with same design