Dragon and Phoenix are good wishes symbol of Chinese people. Therefore, pattern of dragon and phoenix are commonly used for wedding celebration in Chinese tradition.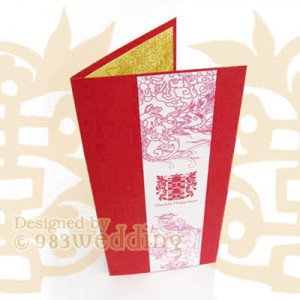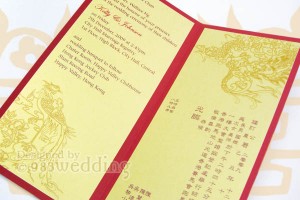 A Dragon-Phoenix Wedding Invitation Design
Dragon and Phoenix are always used for wedding celebration in Chinese culture. They will be used as venue decoration. They will also appear on the wedding card. This design also adapts the idea of using such pattern. Yet, we have attempted to make the design modern and trendy.
The base color of the cover is red. This is considered very traditional in Chinese culture. A pearl color strip, with a red color dragon-phoenix pattern printed on, is on the cover of the card. A double happiness symbol is at the center of the strip. All these patterns remind the receivers of the invitations that it is a wedding! It is something meant to be joyful!
The dragon-phoenix pattern appears again on the cover. The dragon is on the upper right corner while the phoenix is on the lower left corner. Two languages of wordings will be printed on the two panels of the insert. The material of the two panels of the inserts are 250gsm gold color card. After gluing on the cover inside, the card will become thicker. It is a card which is a bit thicker than a normal card a thin paper insert!
---
Invitation Specifications of Dragon-Phoenix Wedding Celebration
Product No.: MC18030
Sizes
Invitation: 3.9″ (W) x 8.2″(H) folded
Envelop: 4.3″ (W) x 8.6″ (H)
Paper Stock
Cover: 180gsm red color paper with 300gsm creamy color pearlised paper strip
Insert: 250gsm gold color paper
Production Detail
Cover: Creamy color pearlised paper strip wtih full color printing mount on card cover
Insert: 250gsm gold color paper with full color printing on ONE side mount on card inside.
Remarks
Return address would be printed on invitation and R.S.V.P. envelop on requested.
Place card, menu, church program & thank you card would be order with same design.