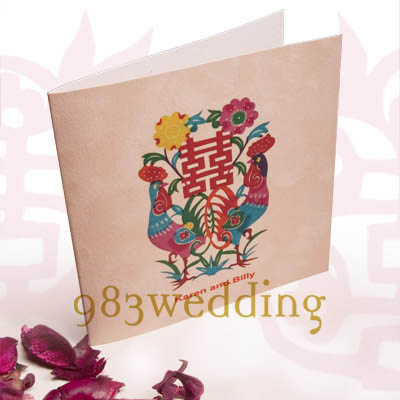 Cock as a symbol of good fortune
It is very common for us to put some graphic elements which bears the meaning of good fortune on a wedding card. The word "雞" (reads "ji", which means cock) in Chinese reads very similar to the word "吉" (meaning good fortune). As a result, sometimes a pattern of two cocks will be used in a wedding. This can also be used as the main graphic element of a wedding invitation. A wedding invitation that shows a pair of cock is certainly a bless. It is blessing for the couple to have good fortune. On the other hand, double happiness is the core graphic element when it comes to a Chinese wedding design. In this design, we have attempted to put these two elements together to create a wedding invitation.
About the wedding invitation
With this traditional Chinese cultural background of using cocks and double happiness as the main graphic element, we use some modern materials (beautiful printable flock) to create a unique Chinese style wedding card with modern treatment. The use of printable flock will give the guests a sense of touch when they hold the card on their hands. This is something totally different from a card which is printed on normal card stock. The touch and feel of the card is just not the same. Your guests will hold the invitation with their hands. This explains why it is so important to choose this type of printable flock. Even from the picture below, you will see that the texture of the printable flock is not the same as normal paper stocks. Besides, the texture and touch of the printable flock match the cock pattern very well. The color of the flock is not white in color. Instead, it is a off white color. This makes the design look even more unique and elegant.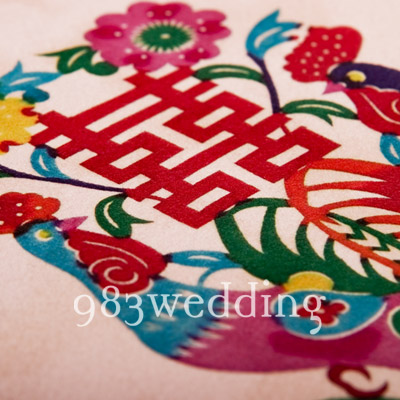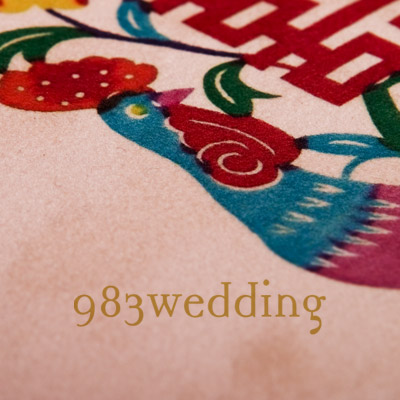 Design Details
Specifications of the wedding invitation:
Product code: 01_010006_01
Type of Card: Folded Card
Size (after folding): 148mm(w) x 148mm(h)
Material: 120gsm paper with a layer of printable flock, mounted with 140gsm red paper with texture, insert white gold color paper
Description: Full color printing on the cover of the wedding invitation. For the wording of the invitation, it will be printed with foil printing / hot stamping on the insert.