Unique Wedding Invitation Design
If you want to make a wedding invitation special, this is one of the options you can consider. The main idea of the design is to make it different from a traditional single wedding card. Again, the treatment, color and graphic elements can be very traditional. But the main design is not. This will create a very unique and modern invitation design. The design idea comes from something we can see everyday – a napkin.
Transforming the concept of a napkin into the design
The design transforms a napkin into your wedding invitation. Your guests unfold it and share your happiness of your big day!
The "napkin" is folded and put on to a holder. This holder is printed with some beautiful pattern in Chinese style. The "napkin" is put into the die-cut slit on the holder. The main content of the invitation is printed on the napkin. The color theme of the invitation is very Chinese. They are the colors used for celebrations. They are the gold and red colors. The color of the napkin is red while the holder card is gold in color. The color theme is eye catching and cheerful.
When it comes to the envelopes of the invitations, it is a four folded envelope. The color of it is stunning. The outside of the envelope is in purple while the inside of it is red in color. This contrast will give your guests a sense of unexpected when they open the envelope.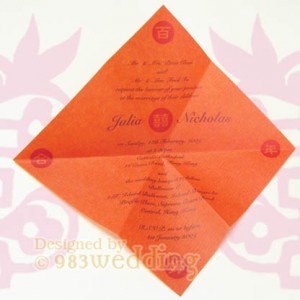 (Click the above thumbnails to view the original images.)
Details of the Wedding Invitation:
Product code: C13002
Size: 145mm(w) x 145mm(h)
Material: 250gsm gold color paper with texture red insert
Envelope: Four fold envelope
Description: Full colour printing on ONE side on the card and napkin design.
*RSVP & Place card in same design can also be ordered.