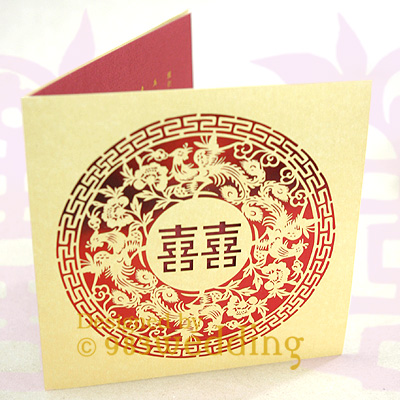 Double Happiness Wedding Card
The invitation card is characterized by a die cut of the Chinese word "Double Happiness" to reveal the inner dark wine red insert paper. You will see a red color "double happiness" when you see this wedding card. A paper cutting pattern is printed around the die-cut "Double Happiness".
The paper cutting pattern consists of a few phoenixes. The underlying meaning behind the pattern is that the phoenixes will be singing to celebrate the wedding and marriage of the couple. It is really a blessing to the bride and the groom. When it comes to the printing method of the pattern, it is printed with foil printing. The foil is in shiny red color. The happiness of couples is subtly revealed from the window of the "Double Happiness". You will see two layers of red. The first layer is the shiny red color of the foil printing on the cover. The second layer is the deep red color of the insert, revealed from the die-cut shape.
The shape of the invitation is a square. This is a very traditional option when a Chinese wedding invitation is considered. As mentioned, the insert of the wedding card is in deep red color. The wording on it is gold in color. Again, the technique of foil printing is used to print the insert. For the cover of the card, it is in yellowish gold color, with the beautiful die-cut shape and Chinese paper cutting pattern on it.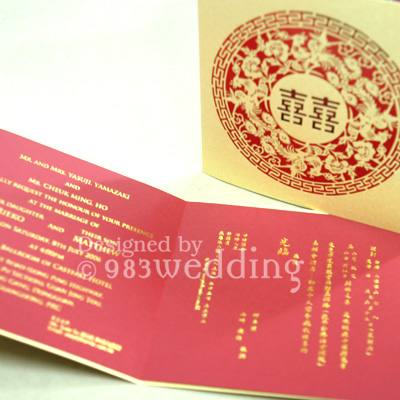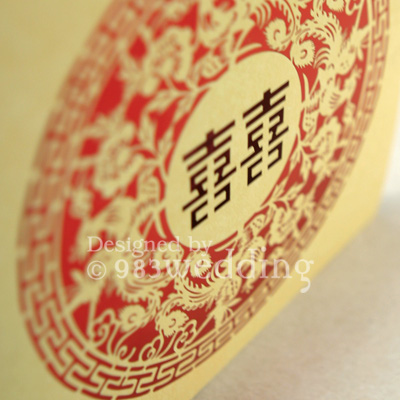 Details of the Wedding Card
Product Code: 01_010011_02
Size of the Wedding Invitation (after folding): 150mm(w) x 150mm(h)
Material: 240gsm gold color paper for the cover, with a deep red color insert
Description: Red color hot stamping and die-cutting on the cover of wedding invitation