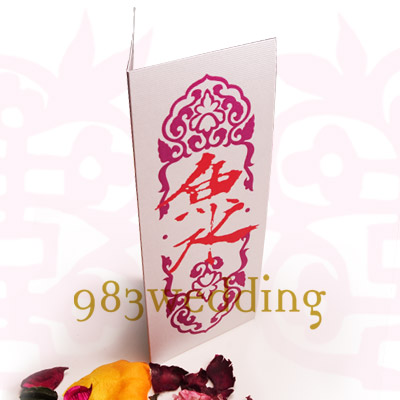 Fish and Water are perfect a match. The Chinese characters on this wedding card bears the meaning of fish and water. This is actually a blessing and implies that the couple will always be a perfect match, like the relationship between fish and water.
The two Chinese characters 魚 (fish) and 水 (water) are printed with calligraphic style. Without any surprise, this will bring a sense of Chinese style. The two characters are red in color, which reinforce the idea of a Chinese wedding invitation. For this design, we do not use the commonly seen double happiness symbol. The intention is to demonstrate that a modern Chinese wedding card design does not always need to have a double happiness on it. This will fit couples who want something different from the others. It is a Chinese wedding design without the double happiness at the end of the day!
Besides the characters of fish and water, there is also a border in Chinese style. The color of it is royal purple.
For the materials to be used, the design is printed on a piece of card which is in grayish silvery color. This is not usually seen in Chinese wedding cards. However, this kind of paper can usually be seen in other types and styles of wedding cards. The choice of material indeed leads to a combination of eastern and western culture.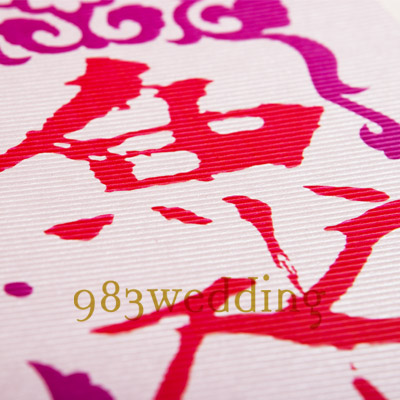 ---
Invitation Specifications
Product No.:
MC180012
Sizes
Invitation: 3.62″ (W) x 9.45″(H) folded
Envelop: 3.94″(W) x 9.84″(H)
Paper Stock
Cover: 250gsm silver pearlized paper
Insert: 64gsm tracing paper / 120 gsm white gold pearlized paper.
Production Detail
Cover & insert with full color printing on ONE side. With silver strings on separate bulk pack.
Remarks
R.S.V.P. card, place card, menu, church program & thank you card would be order with same design.
Return address would be printed on invitation and R.S.V.P. envelop on requested.