Design of the invitation card
Classic yet modern is probably the best way to describe this invitation design. The main color theme of the design is red. A classic red paper with beautiful texture and printed vintage pattern provide a lovely visual effect. This wedding invitation would give your guests a sense of a simple but unexpected surprise.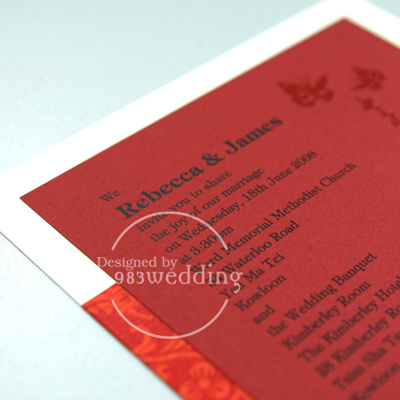 Details of the design
On the back of the card, a beautiful piece of strip can be seen. This strip is red in color, with sensible texture. Cheerful red color classic Chinese patterns and the names of the bride & groom are printed on it. Normally, the names are hot stamped but it can be printed in colors such as black or dark red. A piece of deep red color card, with the wordings printed, is mounted at the back of the ivory color card to create the interesting visual contrast. This treatment is very common when it comes to a western wedding card. Yet, the colors used are very Chinese. The combination of these two styles create a very unique modern Chinese design. Besides the wordings, two butterflies and blossom flowers are also printed on the deep red color card. The color of this pattern is darker red, which is darker than the color of the card. This is done because we would like to create subtle contrasts among the red color card, black color wording and dark red patterns. The wedding invitation creates a sense of simple classic but modern taste. You, as well as your guests, will certainly feel the every small details of it.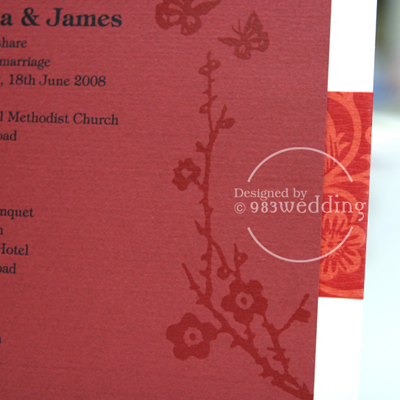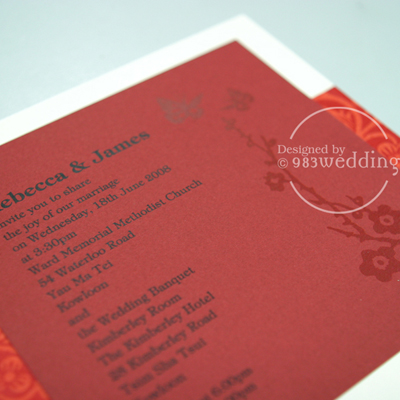 ---
Invitation Specifications
Product No: SC52289
Size
Type of Card: Single Card
Finished size of the Invitation: 5.91″(w) x 5.91″ (h)
Size of the Envelop: 6.3″ (w) x 6.3″ (h)
Paper Stock
300gsm creamy color pearlized paper
Red paper with texture wrapping around the card, with the name of the couples
Back of the card mounted with 140gsm freelife M. RED color paper
Production Detail
Red paper (with texture) with full color printing and gold color hot stamping (foil printing) wrapping around the creamy pearlized paper. 140gsm freelife M. Red color paper with full color printing (for the wording of the invitation), text in black or dark brown color.
Remarks
1. Return address would be printed on invitation and R.S.V.P. envelop on requested.
2. R.S.V.P. cards, place cards, menu, church program / order of services & thank you card can be ordered with same design.