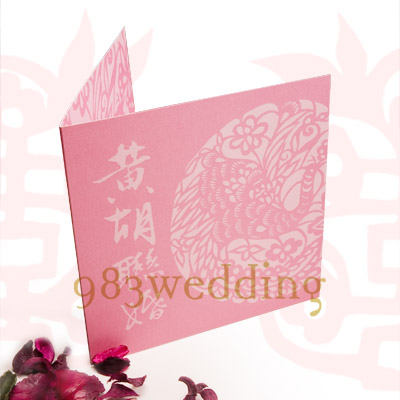 A charming pink color with Chinese traditional paper cutting of Phoenix pattern. Chinese calligraphy of bride & groom's family name. The combination of these elements lead to the design of this exceptional wedding invitation. When you open the card, you will see the enlarged phoenix pattern. This is to create the a of interest in different scale of this wedding invitation.
An Exceptional Invitation With Phoenix Patterns
Without any surprise, the phoenix is meant to be a blessing to both the bride and the groom. This is only one part of the design. The last names of the couples are also printed on the cover of this Chinese wedding invitation. The four Chinese characters on the cover means "the wedding of the couple".
Usually, a Chinese wedding card is red in color. In this particular design, the pink color is chosen instead. The main idea is to create a tone which is slightly different from a totally traditional Chinese design. Inside the card, the four Chinese characters on the cover appear again. However, it is in the form of a Chinese chop. This will give another Chinese touch to the design.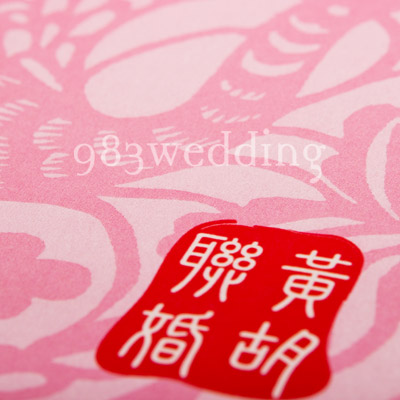 ---
Invitation Specifications
Product No.: MC18010
Sizes
Invitation: 6.3″ (W) x 6.3″(H) when it is folded
Envelop: 6.9″ (W) x 6.9″ (H)
Paper Stock
Cover: 300gsm creamy color pearlised paper
Production Detail
Option 1: Card with full color printing on BOTH sides (as shown from the above images).
Option 2: Full color printing on both sides and full color printing on one side on insert. (Insert material: tracing paper / white gold pearlized color paper)
Remarks
R.S.V.P. card, place card, menu, church program & thank you card would be order with same design.
Return address would be printed on invitation and R.S.V.P. envelop on requested.