Chinese Wedding Invitations - Traditional vs. Modern
Chinese wedding invitations are always unique and elegant. There are tons of choices when it comes to wedding cards. Of course, it will suit a Chinese wedding very well. As a matter of fact, they can also fit into other wedding themes. You can still use this type of invite design style even if you are not going to have a Chinese style event and. There are a lot of couples who will go for this option nowadays. Your wedding theme can be certainly a combination of different styles. There are also a lot of options when it comes to the actual design of wedding cards in Chinese style. There are different colors you can choose from. There are also tons of design elements you can consider. If you want to opt for something not extremely traditional, there are also a lot of modern designs which combine the idea of east and west together. This type of design is probably one of the most trendy and popular choices. So, let us discover more about this type of unique wedding cards and start our journey on invitations with an eastern touch now!

But first of all, you may want to check out some of our Chinese wedding invitation designs now:


Click the images to view the details of the cards.
Click Here To See Our Modern Chinese Wedding Card Design!
Traditional Chinese Wedding Invitation Design
Dragon and Phoenix

Dragon and Phoenix are probably one of the most comment design elements you can see from China wedding cards

In fact, there are some elements that are usually used when we talk about an invitation in Chinese style. Dragon and Phoenix are something you can always see. This is probably one of the most seen design elements when it comes to Chinese invites. You will always see dragon and phoenix come in pairs, especially on Chinese wedding invitations. Because, there is usually a misconception even for Chinese people that they signify the groom and the bride respectively. If we dig into the original idea of dragon and phoenix from some ancient books, we will see that this concept is surely wrong. Of course, it is next to impossible to see designs with only a dragon or phoenix. There can be different designs of dragon and phoenix. Couples can choose the design they love. It should also be noted that dragon and phoenix are not the only elements for Chinese invitation cards. There are also other elements you can find.
Double Happiness

Double Happiness designs

The "Double Happiness" character is extensively used in many Chinese wedding designs. As a matter of fact, this double happiness character comprises two meaning. The first "Happiness" means that the bride and groom will get married and they will be a perfect couple. And the second "Happiness" implies that the bride and groom will have a very good future in terms of the career path. So, the happiness will be double the bride and groom will be together forever and at the same time they can have really good career. From this, you will certainly understand that double happiness wedding invitations are really blessing to the brides and grooms. It is very true that originally it is only a Chinese character and there is only one form of it. However, designers are so creative that a lot of different variations of design of double happiness have been created. The image above only shows a few of the large number of different design. You will be able to find a lot of design ideas of it when you try to Google it.
Red and Gold Color

Red and gold are the traditional colors for Chinese invite designs

Now, let us talk about the colors we will usually use. Some people may know that the red color is usually used. A Chinese-style design is usually red in color. It is especially true for some traditional Chinese wedding cards. Yet, this is not the only choice here. As you may know, gold is another color which is extensively used in China. Without any surprise, this color can also be adapted in wedding design in Chinese style. There are also a lot cards which are in gold color. In fact, it is very common to have a combination of gold and red colors when designing a card in Chinese style.
Modern Chinese Wedding Invitations
Most couples, especially couples in China, will try to search for some modern Chinese design nowadays. Designs of Chinese wedding cards are not just like the traditional ones. There are a lot of new and unique design today. When it comes to the actual designs of the invitations, elements such as "Dragon and Phoenix", as well as "Double Happiness" will still be used. However, these design elements may be treated in new ways. other design patterns will also be used. For instance, it is always a good idea to combine the "Double Happiness" with some western floral patterns.


When the Old Meets The New
Pocket Design

A Thank You Card Pocket design. This can also be used as pocket (Source: Our In-house Design)

Traditionally, it is not common to have a pocket on a Chinese wedding card. It is common for couples nowadays, however. In fact, the advantage of having a pocket is that you can put a few different cards into the invitations. Since there are also couples who need to put a lot of information into the card, it is more common to add a pocket to a Chinese design today.
Chinese Color Combination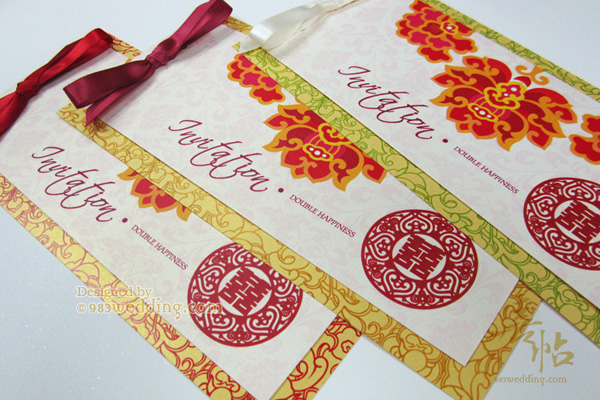 Modern Chinese wedding invitation designs with different color combinations (Source: Our In-house Design)

As discussed, red and gold are the main traditional colors that are used a lot in Chinese weddings. However, there are more choices when it comes to modern wedding invitations in Chinese style. Red and gold are not the only options today. If you have search for some classic western invitation cards, you should realize that most of them are white in color. Lots of designers have tried to combine this notion of having white color with traditional Chinese colors. It is very common to see combinations of red and white or god and white nowadays. Traditionally, black will not be used in Chinese wedding as it is a symbol of having back luck. However, couples are more open minded these days. A Chinese invitation with red, pearl and black colors can be very unique and stunning.
Modern Design Elements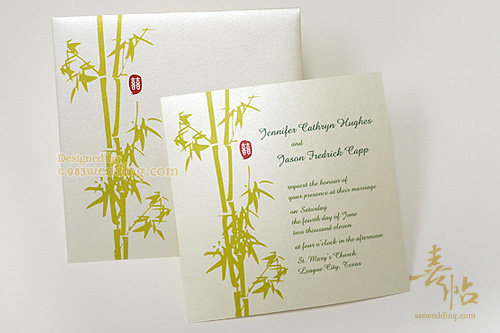 Bamboo can be one of the many ideas for modern Chinese invitations (Source: Our In-house Design)

While dragon and phoenix and double happiness are still the most popular design elements you can see, more graphic elements are adapted in modern Chinese wedding invitation designs. Usually, these design elements are still inspired by Chinese traditions. However, they are not usually seen in traditional designs. There are designs which combines the idea of double happiness and colorful paper cutting patterns. The idea of China (not the country; China, the kind of vases and bowls) is also adapted in modern designs. Alghout blue is in no way a lucky color, Chinese couples are less strict today. It will be even a good idea if you are not a Chinese. You will want "Something Blue" anyway. The beautiful blue colored patterns will be printed on the cards. Bamboo, which is also a symbol of China but not commonly used in weddings, can be another idea here. Instead of printing elements such as dragon and phoenix on the card, bamboos can be printed on it. Chinese wedding card designers also attempt to borrow ideas from objects we can see every day. It is possible to put the design elements on for example stamps or movie tickets. Of course, they will be enlarged a bit such that it can become an invitation. There are also designs which borrow ideas from traditional Chinese wedding dress. Most couples will opt for such types of modern designs. Indeed, it is not a must to go for a super traditional design nowadays.


China as inspiration for the design, the blue color is beautiful [Source: guoshuai205 (in Simplified Chinese)]
Borrowing the idea of Chinese wedding dress to design an invitation [Source: Niusnews (in Chinese)]
Some Rituals and Rules
However, even if you decide to opt for a modern Chinese wedding invitation design, it is still important to consider the invitation wording very carefully. This will be even more essential if one of you is Chinese. There are some rituals and rules people still follow today. For example, unlike wedding card wording in English, the name of groom is usually put before the name of bride when it comes to the wording in Chinese. Usually, both dates in Lunar calendar (traditional Chinese calendar) and solar calendar (the one we usually use nowadays) will be put on the invitatoin. Depending on the cultures in different region, red pockets may be put inside the invitation envelopes and they will be sent to the guests together. Though these rules and riturals not really design elements, you must consider this point in order to make the invites perfect.
Best Modern Chinese Wedding Invitation Design
Here, we have picked the best designs of modern Chinse wedding invitations in our opinions. Some of them are our own designs, and some of them are designs from other designers. You will certainly be able to get a lot of inspirations from them.
Passport Invitation in Chinese Style

Source: Our In-house Design

This is a design that we love very much. Passport wedding invitation actually fits a destination wedding very much. An additional layer of meaning is added to this design. The cover of it is in Chinese style. There is a double happiness design on the cover. Besides, the color scheme of it is dark red. Although this is not the traditional red color you will see from Chinese invitations, the total look of it will still remind you of a Chinese design.
Traditional Match Box

Source: Our In-house Design

The main idea behind this design is to mimic a traditional match box design in Hong Kong. The original design of the match box features a double happiness. As a result, it would be natural to borrow this idea and design an invitation. Of course, the original design of the box is very small. It is enlarged so as to make it fit the purpose of an invite. This idea helps to create a 3-dimensional design instead of merely an invitation card. This design, which is similar to the original match box, also features a double happiness. Rolls of paper with the information of wedding are put inside the box.
Touchable Chinese Wedding Invitation

Source: Our In-house Design

Guest will have to take the invitation on their hands when they read the invitation. The material chosen for this invitation is not simple paper. It is a type of flocked paper which feels like leather. A double happiness with paper cutting pattern is printed on the cover. This design is not traditional in terms of treatment but the design elements are.
Wedding Calendar

Source: PP Wedding (in Chinese)

Again, it is a design which borrow ideas from elements in our every day lives. There is a very common type of calendar in China. Chinese people should know this very well. This design borrows this idea of vintage calendar design. There are not many traditional elements you can seen in this design except the double happiness. Of course, the red color is used in this design. You may think that the big date printed is also in red and this is a Chinese design element. It is not really true. The red color of the date usually means it is a holiday, as in a normal calendar. So, it will be interesting if the big day is indeed a holiday. It is not difficult to arrange if you are going to get married on a Sunday. =p
A New Fortune Book

Source: Pinterest

There is a traditional book for Chinese people to search for dates which is fortunate for different activities. This book is called "通書" or "通勝" in Chinese. This design borrows this idea. This design is very stunning and exquisite. The designer even makes this book design as a wrap for a gift. It is another 3-dimensional design which is so interesting.
Bilingual Wedding Invitations: Chinese and English

One of the options of bilingual invitations is to have a folded card (Source: Our In-house Design)

There are some practical reasons for couples to search for bilingual wedding invitations, especially in both Chinese and English. If one of them is Chinese and the other one is not, they will probably need to go for this option. In countries like Hong Kong, people will opt for this even if both of them, as well as their families, speak, Chinese language. It is because they may have a lot of friends who do not know anything about Chinese at all. The couple need a bilingual invite in order to make sure that all their guests know about their event. There are also couples who need to combine Chinese and another language instead of English. In fact, the main idea will still be the same. You still have to make sure that there will be enough space to include all the wording or information. The notion of having Chinese and English is just an example.

Speaking about the actual options of bilingual Chinese and English wedding invitations, it is not recommended to have a single card. If you really want a single card, it will be better if you can print on both sides of the cards. On the other hand, it is common for couples to go for a folded card. As there are two pages inside the card, it will be possible to print one language on each page. Another popular option will be going for a design with pocket. You can virtually put a lot of cards into the pocket. You can dedicate a card for Chinese language and another card for English.
A Few Words about Printing Methods
The printing method is another point to consider. Techniques such as foil printing and embossing are extensively used when printing the wedding cards. In fact, they are the most popular printing techniques used for Chinese wedding cards. It is also common to use offset printing, especially when couples want to include their pictures on the invite. Of course, other printing methods can also be used. In Particular, letterpress wedding cards in Chinese style is something very elegant.

In fact, there are unlimited possibilities when it comes to the designs of Chinese wedding invitations. So, be sure to consider this choice and idea when you are planning for your wedding cards!