First of all, let me give you a little reminder. There are tons of examples and images in this post. You may need to wait for a second so that you can see all the images. But it is worth waiting because they are all the most creative and unique wedding invitation designs.
In fact, planning for your invites can be something difficult if you do not know the right ideas to do so. So, the question you will probably ask is how you can plan for your the invitations very easily. I will say that there are usually some major issues you should think about. Without considering all these factors, getting a perfect and nice invite can be just next to impossible.
If you want something different for a wedding card, here are great, some may even regard as crazy, ideas that you can use for the cards. The suggestions here may ask you go to out of the traditional. But then again, it is your wedding and it is your call. Check the list out and see if your partner would agree to it.
Examples of Most Unique Wedding Invitations
Even for professional designers like me, the first step of creating a new design is to conduct research. Of course, you will also have to do it when you are trying to search for your own unique wedding invitations. Here I have done part of the research for you! So, let us first of all take a look at these examples.
Retro Matchbox Design
This is one of the many designs that I am really proud of! I personally love this idea of converting a traditional Hong Kong matchbox into a wedding invitation. The main invitations are the rolls of paper inside the box. This idea is in fact excellent for a Chinese themed wedding. You can see more about this design by Clicking Here.
Ice-cream Stick Invite
Who does not want to eat ice-cream stick in summer? It is even better if you are enjoying the sunshine on the beach. This design is certainly perfect for a beach wedding!
Camera Film
This should be considered another retro design idea. Not many of us will still use films to shoot photos these days. However, the idea of film is to capture important moments. This is really something meaningful. You can also consider this design.
Acrylic Invitations
Most of the wedding invitations we see nowadays are made from paper. Going for other types of materials is already a way to make your invite unique. This acrylic design is an example.
Tie the knot
To tie the knot means to get married. This design literally expresses this idea. Everything one will know it is a wedding invitation when they see this idea of "tie-the-knot" design.
TV Game Memories
This design is perfect if you love playing TV games. However, it is not imitating the newer games from consoles like PS4. It is like a class Super Mario game of Nintendo. This is really a good piece of design that will recall our memories about childhood. This may not suit some younger couples who are only 19 or 20 though.
Hearts Together
It is somehow like a popup card design. There are two hot air balloons with a 3-dimensional or you can say pop-up quality in this design. The balloons are in heart shapes. This idea signifies the hearts of the couple. These two hearts will always be together. I personally also love the two pieces of cloud behind. It make the design more interesting.
The Knot is Tied
This is another unique and creative wedding invitation which plays with the idea of "tie the knot". Two rolls of strings are tie together. The strings are of two different colors. Again, this give a 3-dimensional quality of the card. The word "FINALLY!" on the design express everything that the couple need to express.
Passport Design
The passport design is usually perfect for a destination wedding. I will say our design is a bit different from all other similar design you can find on the web. We make it look like a REAL passport! I believe this is the most perfect expression of such design idea. In fact, what is interesting about it is that you can easily customize all the inner pages. You can even customize the inner pages according to each guest! You can see more about it by Clicking Here.
Halloween Coffin
A coffin will easily make us think about Halloween. This is this is so perfect for a Halloween themed wedding. Remember to make it design beautiful like the above one. The combination of black and red, and the gold color shinny foil make the card more exquisite and unique.
Teepee Wedding Invitation
This is a native-American inspired design. It is really a creative and interesting idea to transform the notion of teepee into an invitation design. Guest can play with the paper card and build a paper 3-dimensional teepee. This idea is so unique that everyone will say it is a beautiful piece of work.
Insta-photo Frame Invitation
This is an invitation set. I think the most unique part of this design is the use of the Insta-photo frame. Of course other items of the set are very beautiful. But I really have to admire the idea of insta-photo frame again. If you want to have something unique, why not consider this unique idea!
Travel Adventure Map
No matter you are going to have a destination wedding or not, this design will be perfect. It is a map of adventure. It is just like how we get married. From the first time we met and finally we decide to get married, this is really an adventure. You can even make this map something like your love story.
Old School Library Card
OK! You met him in the library when you were still in the high school. This save the date card is good for such an idea. In fact, this old school design will help your guest recall all the good old days in the school. Even if you did not firstly meet in the library, it will be good if you met the first time in the school. I am sure that this can be extend to a full set of invitation design.
The Marauder's Map – Harry Potter
Fans of Harry Potter will certainly know what it is. Yes! It is the Marauder's Map. It is interesting to transform this idea into a creative wedding invitation design. It does not matter even if you are not a fan of Harry Potter. This design is unique and perfect for any couple.
Chocolate Bar Wedding Invitation
Do you love chocolate? This unique wedding invitation design will amaze you even if your answer to this question is a "NO". Your guests will not be able to resist when they receive this invite. It is edible. Don't worry! Your guests will not throw it away after they finish the chocolate bar =p .
Wedding Invitation Record
OK! I won't deny that a lot of retro designs are really unique and creative. Here is another example and option for your big day. You can create a record and make it as your invitation. The paper record player is a good idea. Otherwise, be sure at least you yourself have a turntable at home so that you can play it!
Wooden Wedding Ring
This is a design which is made from wood. What is more interesting is that there are a pair of wedding ring and you can really put them on your fingers! Although it is quite sure (Not 100% sure, though) that your real wedding ring will not be a wooden one, it is certainly a very playful design.
Golden Autumn – A Luxurious Design
This is an invitation I design for a client. The couple was getting married in autumn. Although it was not going to be a fall themed wedding, I still tried to added some touch of the season to the design. Instead of using colors such as orange, gold color was used. In fact, Isaac Levitan, a famous Russian painter, created a drawing called Golden Autumn in 1895. The gold color is really stunning and the name of this design was actually named after this drawing. Yes! It is true that the gold color we used was different from the one in the drawing. The combination of gold, red and brown made the design very perfect. The box of it was made from paper with wooden texture. This further reinforced the idea of autumn wedding. I should mentioned the size of this invitation. It is a HUGE one. The size of it was 30cm x 30cm (around 1 ft. by 1 ft.). This design is really a super luxurious one.
Wedding Invitation Mug
Yes. Making a mug as your wedding invitation is certainly a good idea. It can become a piece of gift you send to your guests. Remember that when you are considering this idea, you will also have to think about the box. Make sure that you will create a beautiful box for the mug, unless you are going to put it in a simple transparent plastic bag.
Scrabble Board Game Invitation
Convert a board game into your unique wedding invitation design now! The picture above is in fact a save-the-date design. However, it will just be natural to make it an invitation design. Even if it is only a fake print design on a piece of card, it will be something very interesting.
Interesting Beach Wedding Invite
Personally I love the idea of putting the paper umbrella miniature on the card. This reminds me of my childhood. Again, the picture above only shows a save-the-date card. However, it won't do any harm to the idea or design if you make it into an invitation.
Mugshot Design
I have nothing to say about it. We will need a sense of humor in order to understand this design.
Invisible Heart
It is not really a game but you can play with it a bit. You can remove all the circles and you can see this invisible heart. Playing with these circles and holes can also give you interesting shapes other than the invisible heart. It is a modern design with a brilliant idea.
Arcade Wedding Invite
This is something awesome. I suppose every couple will love it and every guest will just say WOW when they see this design. The invitation is sent to the guests flat. They need to fold it a little bit and then they can see the retro game arcade. Your guests will certainly expect a memorable and unusual event on your big day.
Game Card Style
Although not all brides and grooms will love this design. No one can deny that there is a sense of humor out of this game card style design. If you do not want to call yourself "creature", you can just use another word to substitute.
Handkerchief or Napkin Design
Let's move away from printing on paper. You can actually print your invite on fabric. It will not be unusual to print on handkerchief or napkin if you try to think about materials other than paper. You can print anything you want on them. Be sure that you include your names, wedding date and venue on the prints. Otherwise your guests will not know how to attend to your big day :mrgreen:.
Board Game Design
OK! There are board games other than scrabble and you can make them into your unique wedding invitation design. The above example is a save-the-date design with some cookies. However, I should emphasize once again that you can easily make this an invite design. So, let's be playful and make some fun out of such designs.
Stick Together
A design that plays with words is always interesting. This is a perfect example. It plays with the words "stick together". Two sticks are put together and the bride and groom will stick together. This is actually a wedding favor but I think we can always bring this idea to invitation design. Remember, even the sky is not the limit when it comes to design ideas. You can certainly borrow ideas when you find it is appropriate and interesting.
Pills or Pharmacy Invitation
I think this design is only for couples who are crazy enough. Somehow it is creative to have pills as the wedding invitations. However, I guess not all couples will love this notion of pharmacy.
Movie Poster Design
In fact, it can be interesting if you can become the character in a movie poster. If you want to create something special for your wedding invitation. This idea of movie poster will be perfect. Yet, you will have to choose the right poster otherwise it will not be good.
Airplane Wedding Invite
Have you ever used lightweight wood to make airplane before? It is certainly surprising that this idea can become your wedding invite. You can just print the information of your big day on this plane and it will become a really creative wedding invitation design. However, it can be difficult for you to send them to your guests. It will be perfect if you can meet each guest and give them the invite in person.
Emergency Kit
This idea is in fact very humorous. You do not only send your guests invitations but also emergency kits. Every guest will receive a bottle of water, some food, and most importantly, bottles of wine! I will certainly feel funny and want to attend your wedding (and survive?) if I receive this from you.
How To Create Exquisite Invitations
After you have done your research, it is time to actually think about your own invitation. To create invites which are totally unique, you must bring out the artist in you so that you can have the most special wedding invite ideas. Creativity is the key. Of course you will also try to get some design samples in order to get the inspirations. While you may take inspirations from different pre-made cards available in the market today, you are always challenged to make your own design and put a personal touch to your card.
Be sure to look at the many different design ideas from local stores and online bridal shops. Collect everything that you like and compare them side by side. Then, mix and match their themes and designs in order to come up with an extraordinary invitation card for your event. Let your imagination flow freely and you are sure to make something very beautiful.
You can customize your card like putting a photo of you and your partner. If you can paint or draw, why not create a hand-painted card for a more personalized touch? Indeed, that is going to be the most unique design anybody in town could have ever received.
Another factor you can consider to select a theme for your reception or ceremony and use it as the ideas for the invitation. Most couples simply choose a color for their motif. Others go out of the way to make their big day special like making it a garden theme, a beach theme, or a big church theme.
There are many other ways to make invitation cards aside from the ones suggested above. Always remember that many people tend to keep these cards as a souvenir of the reception. On that note, you must make sure that the wedding invitation card that you make is indeed worth keeping for a lifetime.
5 Essential Wedding Invitation Ideas
Here are some general ideas you can consider so that you can make your wedding invitation more unique.
1. Wedding invitation video
Who says you have to use a card, an envelope, and a paper all the time? Instead of choosing which printers to consult, why not ask a video expert and an editor to make you a unique wedding invitation in the world? While making a video to invite your friends and family to the big celebration means you can't use it as a souvenir, it could definitely work beautifully to capture your guest's attention.
This is a very interesting invitation video on Youtube:

2. Use games

Puzzle design wedding invite is actually to convert a game into invitation design
How about something out of the ordinary like a jigsaw puzzle-inspired design? Well, don't give your guests a hard time making out the puzzle that they won't get to the reception in time. Just a few puzzle pieces would do and not a hundred even if you're tempted. This suggestion would require great care and planning. But this is also one of the unique wedding invitation ideas.
3. Stray from the usual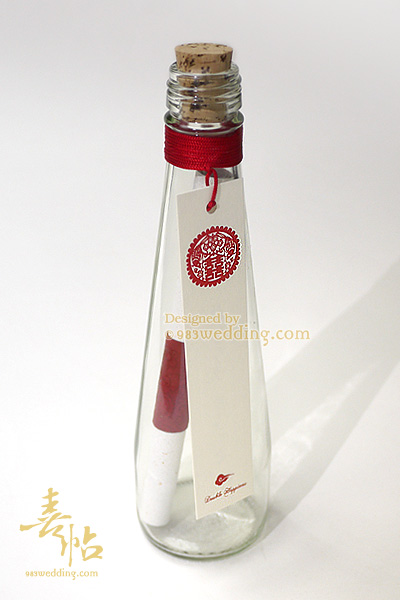 The primary concept of using a bottle is to stray from the usual
How about instead of using an envelope you use a small bottle to contain your invite message like a message-in-a-bottle kind of stuff? Or maybe you can get the invites printed on a scroll and tie it neatly with a ribbon. You can also send it with a bouquet of flowers, a bear, or even in a box of chocolates. Let your imagination take over and see how creative you can get.
4. Try original wordings
Instead of picking wordings for your invitations over the internet or somewhere else, create something out of your own. Let your heart speak and listen to it. Write an original poem, a song, or even your own love story on the wedding invites and use those for wordings. Even if you're sending the traditional card and envelop invites to your family and friends, they wouldn't doubt that what they have in their hands is indeed one of a kind.
5. Use embellishments
There is nothing to give your unique wedding card a special feel other than a ribbon, a gold trimming, a button, or even your own picture in it. If you want, you can even add a shell for beach weddings, a lace for church weddings, or a flower for garden weddings. It may not be much but these small things can definitely make your invitation special, attractive, and very different from what you normally see at the stores. As a matter of fact, the use of embellishments is the essence when it comes to DIY or handmade wedding invitation ideas.
These suggestions can definitely help you come up with a nice set of unique wedding invitations for the grandest day of your life. Be sure that you consider your options well, and not just go for the most novel way to invite your family and friends to the big event.
Frequently Asked Questions About Wedding Invitations
Do I Really Need The Invitations
The answer is yes and no. Nowadays, it is possible to invite your guests without sending them physical invitations. It is possible to do it with electronic invites. However, some couples may think it is not polite to do so. In this case, you will still be suggested to print and send physical invitation cards to your guests.
Can I Create A Wedding Website Instead of Sending Invitations
While it is possible to put all the information about your big day on your wedding site, it is vital to understand that it is different from your invites. You will still need to ask your guests to visit the site. And you will still need to send them invitations.
How To Prepare The Wording
First of all, let us discuss a bit about the wordings of the invitations. Usually, you will see the wording "The Honor of Presence …" when you receive an invitation card. It is one of the most common ways to plan the wordings of the cards. This is quite a formal way to write the invitations. As a result, you may not write this if you are not going to make the cards formal. This is certainly a kind of wedding invitations etiquette you have to consider.
Besides, it is a tradition that the parents are the people who invite. As a result, the wordings will start with the names of the parents. Yet, the case is a bit different nowadays. There are more brides and grooms who are trying to invite the guests themselves. There are the ones who will finance the wedding at the end of the day and it is not difficult to understand why the couple will invite the guests themselves. In this case, the wordings will start with the names of the bride and groom. Alternatively, you can start with the phrase "together with their families" and then you will write the names of you.
Can I Print The Card Myself
A lot of couples would like to go for the idea of DIY wedding planning these days. It is totally possible to make your own DIY invitations. Be sure to think about the workload before you do it. You are not advised to do so if you need to create 300 pieces of cards. Besides, you should also choose wedding invitation paper stocks carefully. You have to make sure that you can print on the paper stock you choose.
When To Send The Invitations
Another question couples will usually ask is when they should start sending the invitations. In fact, this will depend on the kind of wedding you are going to have. If you are going to have a destination wedding, you will probably need to send the cards earlier. This is because your guests may need to arrange the air tickets. Interestingly, it is common to choose boarding pass wedding invitations when this type of wedding is concerned.
As a matter of fact, couples usually send the cards 8 to 12 weeks before when it comes to a normal wedding.
Should I Send Save-The-Date Cards
You may also wonder if you should send save-the-date cards to your guests. You can tell your guests about your wedding in advance when you send the save-the-date notes to them. It is very true that a lot of couples will send the guests save the date magnets. It is not a bad idea to do so. However, there are some couples who may want to save some money. To this end, it is totally possible for you to send your guests emails as the save-the-date note. It is really common to do so nowadays.
Is Response Card a Must
The answer is again yes and no. You need to ask your guests to reply you anyway. However, it may not be necessary to ask them to reply in the form of mailing a card to you. Thanks to the internet it is possible to do it online, by either email or on a website with RSVP function.
How About Thank You Cards
Well, it is a must to send thank you cards so as to appreciate the time devoted to your wedding by your guests. You also need to thank for the gifts. There are also a number of concerns when you are planning your Thank Your Cards. For example, you may want to know whether you should write every card. You will probably need to discover more tips about Wedding Thank You Cards in order to address these concerns.
More Ideas To Make The Wedding Invites Unique:
We are aiming at providing brides and grooms with the best and unique invitation Ideas. Besides all the above tips, there are also other tips for you to make your invites special. You will be able to get the best invitation cards for your wedding with all these ideas:
Always Go For The Best Invite
With the above ideas and information, searching for the best wedding card will not be difficult. Remember, the above are some general guidelines you have to think about. You will probably have to consider your own situation and wedding invitation ideas before you can order or create your own wedding invites.
Disclaimer: Not all the design listed above are our own designs. I collect some of the designs on the web and quote the sources whenever we know where the sources come from. If you find that your design is listed and it is not properly quoted, please contact me and I will take appropriate action as soon as possible.