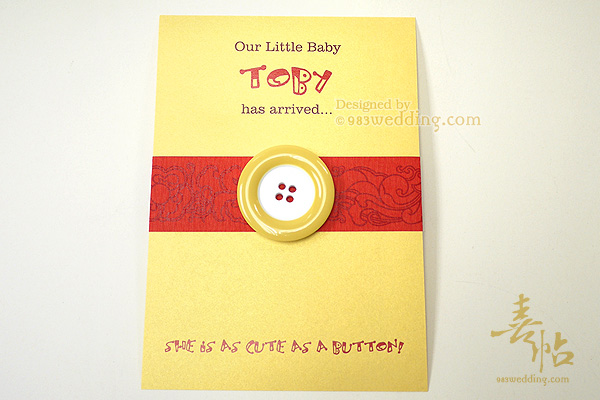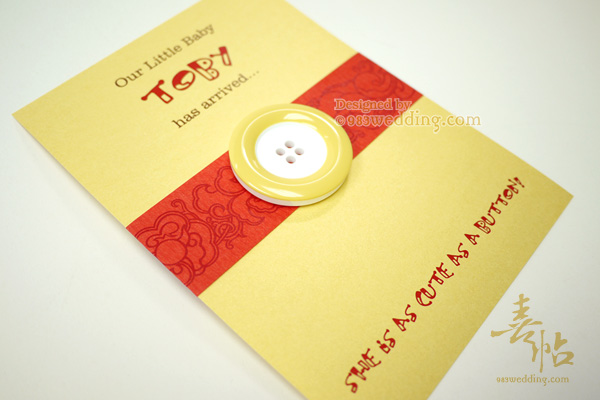 Card front view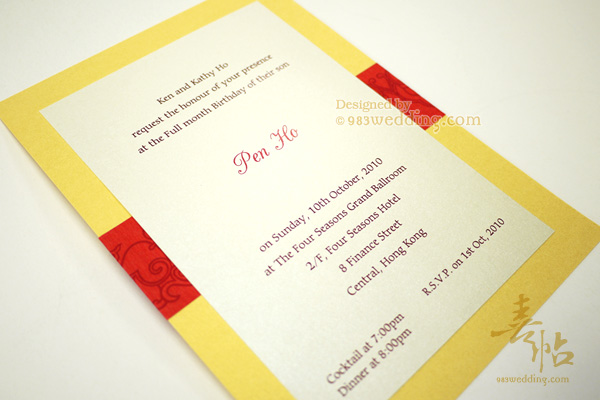 Card back view
The New Born Baby is As Cute As A Button!
A new family member is coming. He/ she is as cute as a button. In fact, this phrase is extensively used in babe showers. Of course, you can also see it in babe shower invitations. In this design, we literally use a button to express this idea and celebrate the arrival of the new member in your family.
This design can be used as a babe shower invitation or a full moon baby birthday card. It features a button to share the happiness with friends and relatives. We utilize the ideas of "button" and "full moon" in this design. The shape of the button is of a circle. The color of it is yellow. The shape and the color of it denote the idea of a "full moon". This is the main concept of this full moon baby birthday invitation card.
In fact, the yellow color button also bears another layer of meaning. The yellow circle will remind us of the full moon. This will make the design even more suitable for a full moon birthday celebration.
While the button is the focus of the design, there are also other elements in this design. A beautiful red color strip wraps around the invitation. Without any surprise, this will create a contrast with the button. The color of the card front is yellowish gold. So, we have three main colors here. The yellowish gold card, the red strip and the yellow button. This creates a contrasting (in color) yet harmonious design.
On the card front, the name of the name born baby will be printed. The phrase "Cute as a button" is also printed on it. They are all red in color.
Now, let us talk about the back of the invitation. A piece of off-white pearlized paper is glued on it. It is smaller than the yellowish gold color card. A gold color border will be seen. The wording will be printed on the pearlized card. Since the red strip wraps around the invitation, the red color can also be seen on the back. As a result, there are also three main colors at the back. They are off-white, gold and red. Again, an interesting contrast is created here. This makes the design elegant and unique.
Product code: B10013
Size: 125mmx175mm(single card)
Card cover in 250gsm gold color pearlized paper with full-color printing on ONE side.
Red color paper strip wraps around the card.
Card back side mount with 250gsm creamy color pearlized paper with full-color printing on ONE side
With envelope