The invitation designs with simple traditional good blessing symbol – lovely swimming fishes. The pronunciation of the Chinese word "魚" (fish) is very similar to another word which means "saving". Here, the word "saving" usually implies saving money. A wedding invitation with a fish pattern implies the good fortune of the couple.
The cover of this wedding card is pearl in color. The fish pattern is only one part of the blessing. Another part is the double happiness character. The character and the pattern are combined together to form a whole unique paper cutting pattern design. The paper cutting pattern design is printed with red shiny foil. The meaning of this design is quite obvious here. It celebrates the marriage of the couple and at the same time bless them to have good fortune. The names of the couple are printed under the pattern so that the invitation card will be personalized.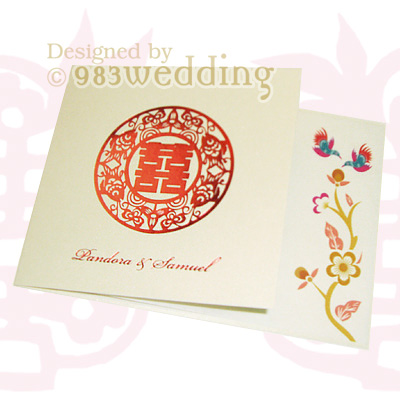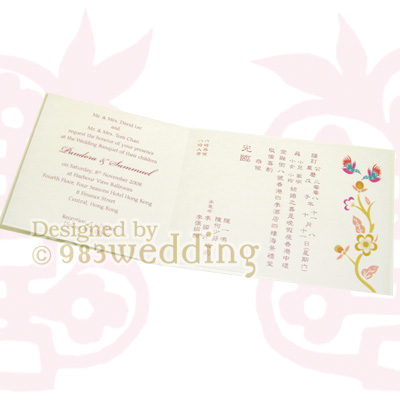 When it comes to the insert of the wedding invitation card, it is a piece of white color paper with some textures on it. In fact, we try to use white color for all the paper stocks in this design. Again, this is an attempt to create a non-traditional Chinese wedding invitation design. It is actually very possible to do so by merely manipulating the colors. This is also the reason for the use of red color foil. Now, let us talk about the design of the insert. The right-hand side of the insert can be seen even without opening the card because the card is folded asymmetrically. The insert is printed with colorful floral patterns and two flying birds (again, blessing), which is visible on the right-hand side of the card. The wording will be brown in color.
This invitation design can give your guests an unexpected experience. This is especially true when the texture of the insert is considered. The texture of the paper stock for the insert is unique and interesting. On the other hand, it is easy to make this invitation a bilingual card because it is a folded invitation.
---
Invitation Specifications
Product No.: MC18017
Sizes
Invitation: 4.9″(W) x 6.9″(H) after folded
Envelop: 5.3″(W) x 7.28″(H)
Paper Stock
Cover: Creamy color environmental pearlized paper
Insert: 74gsm white color texture paper (this can be changed to other types of paper on request)
Production Detail
Cover with red color hot stamping (foil printing). Insert with full-color printing on ONE side and glued on the card inside
Remarks
Return address would be printed on invitation and R.S.V.P. envelop on requested.
R.S.V.P. card, place card, menu, church program and thank you card can be ordered with the same design