Do you want a wedding invitation design which is elegant? At the same time, you may not want something too complicated. If these are what you need, you should take a look at this design.
For this wedding card design, we have adopted something which is in a Japanese style. In fact, we should say that it is a fusion of Japanese and Chinese style. As you may probably be aware of, Japanese style design is always simple and elegant. This is also why a lot of brides and grooms prefer this type of design. Of course, this is also the reason that drives us to create this design. In this design, we make use of the Japanese style paper strip on the card front. You can see that it is very colorful. Everyone will know that this is a Japanese design when they see this strip. This is the only element which is in Japanese style. It is possible to see part of the insert even without opening the card. As mentioned, it is a fusion of Japanese and Chinese design. A floral pattern and a Chinese style chop are printed on this part of the insert. This will create a perfect match between the two types of design styles. The colors of floral pattern resemble the colors used on the Japanese paper strip. On the other hand, the color of the chop is red. This is something very Chinese we will say. To make the design look classy, a pearlized paper is used for the insert. As per the cover, a piece of gold color pearlised paper is used. So, the main color theme will create a touch of Chinese atmosphere. We will say this is a perfect example of a combination of Chinese and Japanese style design.
Now, let us talk about the Chinese style chop you will see on the insert. The wording used here is "天賜良緣". This means that the love of the couple is a blessing from the heaven. This is something romantic and it is really a blessing for marriage. Besides, there is a Chinese saying "開花結果", which means that the bride and the groom will eventually be united into one. This is the reason why we have created the blossom red color flower. The initials of the bride and the groom are printed beside the floral pattern to further reinforce the idea that they will be united in love.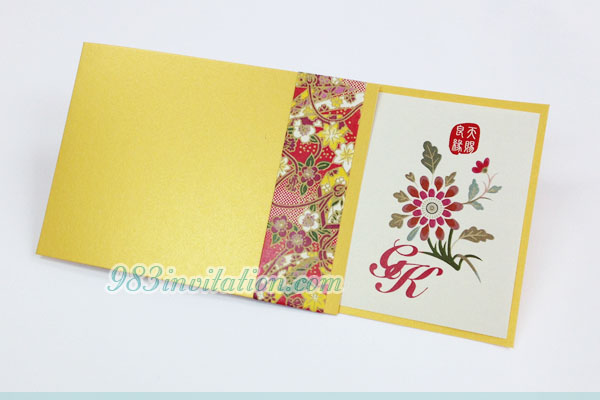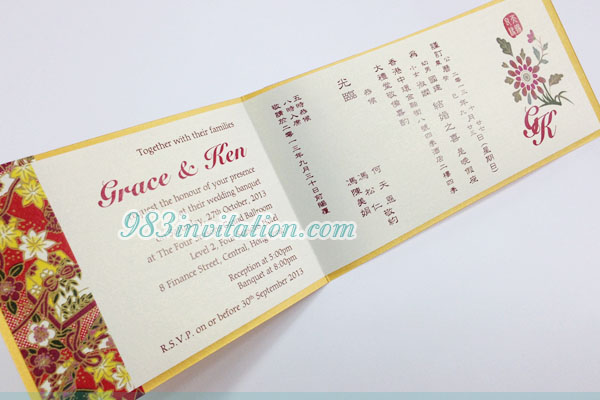 Code: MC18058
Size: 3.9"x8.3" (after folded)
Cover: 250gsm gold color pearlized paper
Insert: 120gsm white gold color pearlized paper