There is an old Chinese saying about Wedding invitation: a RED BOMB.
This invitation is designed in a sense that it looks like a bomb with double happiness symbol on it.
Let your friend know your big day by sending this lovely cute "Red Bomb". The special design of the wedding cards will give great surprise to them.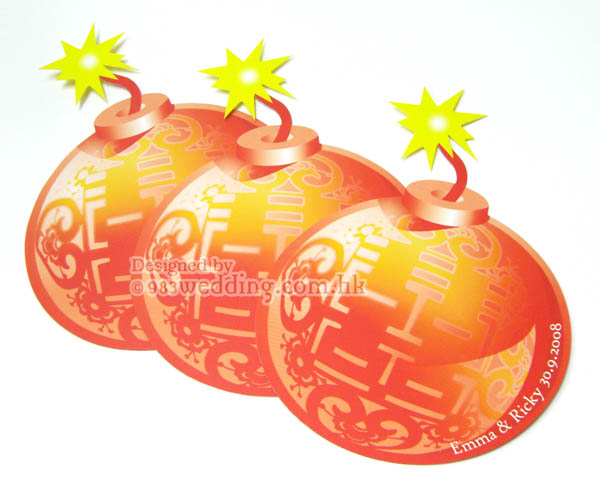 Card Front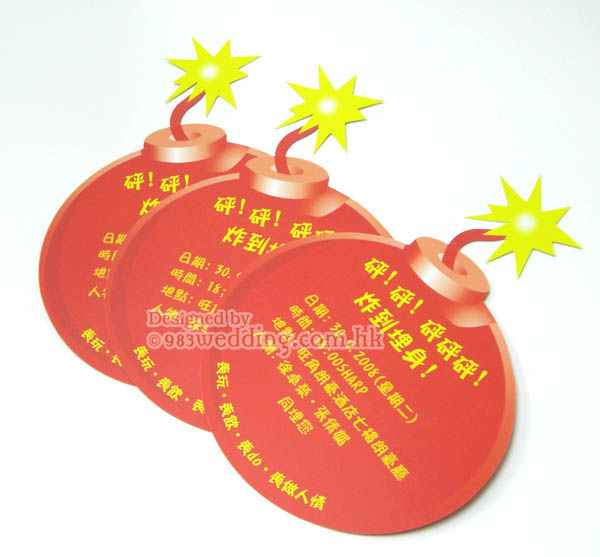 Card Back
In this design, we have literally adapted the idea of red bomb and create the design. Due to this idea, everyone will understand that it is a Chinese wedding invitation. However, it is not something traditional. A piece of card is in the shape of a bomb. This will make the invitation interesting. All guests will know that it is a wedding card when they see the shape of it.
Though this design will not look like a very traditional Chinese design, we still add some Chinese elements to it. On the card front, a double happiness symbol is printed on the bomb. Without any surprise, design of the symbol will follow the shape of the bomb.
You will see the wording at the back of the card. However, we will not choose any traditional way to layout the wording. Instead, we attempt to make it really interesting and unique. For instance, we use the phrase "BANG! BANG! BANG!" as the starting point of the wording. This echoes the idea of a bomb.
Then we will put the wording on it using point form. It is not something formal. It is very true that this red bomb wedding invitation design will never be something formal. As a result, it will be a good idea to make the wording more informal or even casual.
It is possible to change the wording on the back of the card. Please let us know your idea about the wording and we can do the layout work so that you can fully personalize the contents of the design!