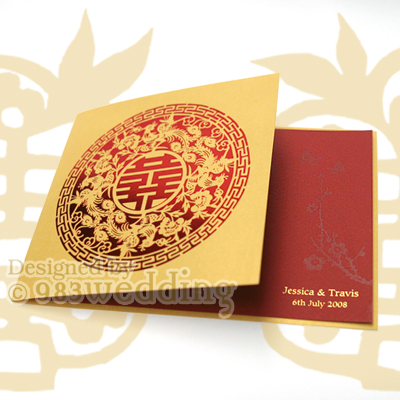 Traditional deep red dancing Phoenix forming a perfect circle to celebrate the happiness of the new couple. At the center of the circle, you will find the "double happiness" character. It looks like a smiling face and this gives the double happiness wedding invitations a very elegant and classy look.
Smiling Face And Double Happiness
We have to admit that this design looks more traditional than our other designs, though we have still added some modern touch to it. The card is featured with a smiling double happiness symbol to create the joyful sprite of the wedding. Phoenixes are dancing around the symbol. As mentioned, this forms a perfect circle. This circle of happiness is printed with red shiny foil printer. This will make the pattern really stands out when your guests open the envelope and see the invitation.
Paper stock chosen for this invitation design is in gold color. This gives the card another layer of Chinese touch. In fact, this choice of paper stock helps to further bring out the circle of happiness pattern as there will be a big contrast between the gold color paper stock and red color foil.
A Modern Touch
Although this design is very traditional, we attempt to make sure that it will not look old fashion. As a result, we fold the card at a slightly different way from other similar designs. It is folded in a way that part of the insert can be seen even when it is folded. You will be able to see the red insert even without opening the card. For this "exposed" part of the insert, patterns of blossom flowers are printed in another red color to create the stylish mood.
When it comes to the wording of the cards, without any surprise, both English and Chinese, or other languages of your choice, can be printed on the insert. It is printed with gold color foil printing, which makes the double happiness wedding invitations unique. Though this combination, as well as the choices for all the colors, can seem very traditional, the whole treatment of the card gives a new life to the traditional Chinese idea of red and gold color invitation. The design is totally classy and it will suit couples who want something modern yet without losing any traditional Chinese touch.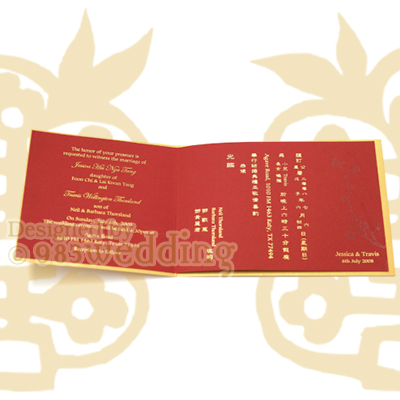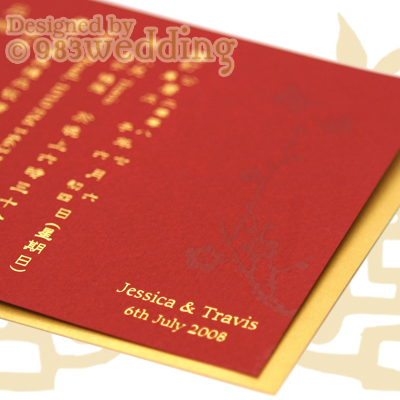 Names of the couple will be seen on the "exposed" part of the insert
---
Double Happiness Wedding Invitations
Shiny Red in Smile
Invitation Specifications
Product No.: MC18001
Sizes
Invitation: 6.9″ (W) x 4.9″(H) folded
Envelop: 7.2″ (W) x 5.2″ (H)
Paper Stock
Cover: 250gsm gold color paper
Insert: 140gsm Freelife M. RED color paper
Production Detail
Cover: Red color hot stamping (foil printing) on gold color paper
Insert: 140gsm Freelife M. Red color paper with full-color printing and gold color hot stamping (foil printing). Insert glued on the card inside.
Remarks
Return address would be printed on invitation and R.S.V.P. envelop on requested.
R.S.V.P. card, place card, menu, church program & thank you card would be ordered with the same design.
You may also Click Here to see other Double Happiness Invitations from our collection!