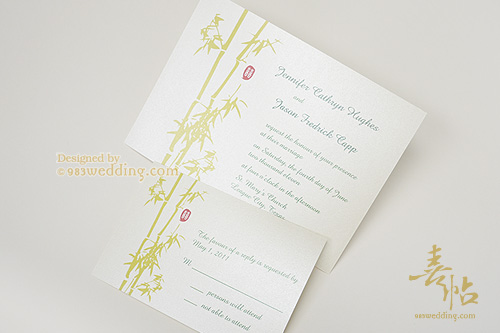 Bamboo Wedding invitation cards with RSVP cards in post card style
The Use of Bamboo In Wedding Card Design
Bamboo in Chinese culture represents a good gesture. Bamboo, mui flower (cherry blossom), orchid and chrysanthemum represent four important personality for Chinese people. Bamboo is considered one of the "Three Winter Pals" in China. Though it always stands upright, it has the quality of being flexible. Bamboo is easy to flourish. And this implies the idea of good fortune and prosperity. Since bamboo usually give people a clam and peaceful feeling. At the same time it is very elegant. Bamboo wedding invitations will fit couples who prefer simple and elegant wedding cards.
Since the focus of the design is the bamboo, the main tone of this invitation is green. The bamboos are printed in light green while the wordings are printed with a darker green color. However, one of the problems of this color scheme is that the invitation may look very plain and pale. As a result, we add a bit of spice to the invitations by put a red color double happiness on the right hand side of the bamboo. The design becomes more lively and elegant after the symbol is put on the card.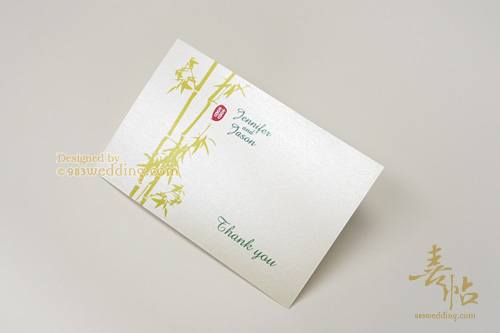 Thank You Card of The Same Design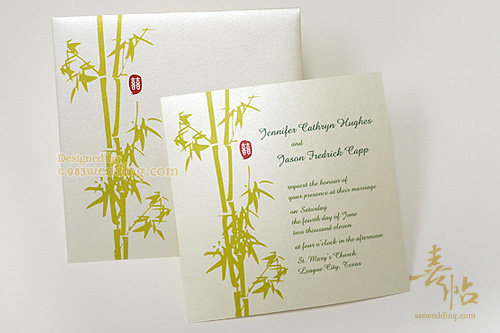 Bamboo Design Envelope with the Main Wedding Card
Wedding Stationery With Bamboo Designs
This wedding invitation design will suit your needs if you want a card which deliver a sense of being natural. The design can also be perfect if you are looking for elegant Asian wedding invitations. It will especially fit your event if you are going to have a Chinese or Asian themed wedding. Your guests can feel a sense of peace when they see the invitation cards.
The bamboo wedding invitations are in a square shape (extra postage fee might be required in the U.S.). It is possible to change the size of the card. Changing it to a rectangular invitation is also something feasible. Envelope with same bamboo pattern will be printed on the front envelope. This makes the envelope also an interesting part of the whole design. Besides the main bamboo invitation, other stationery items are also designed in the same manner. It is a whole set of stationery you can choose.
---
Bamboo Wedding Invitations
Specifications
Invitation card Size:
125mmx175mm(single card) or 145mmx145mm(single card)
Paper: 250gsm creamy color pearlised paper
with full color printing on ONE side
With envelopes
R.S.V.P. cards and Thank you note could be ordered separately.