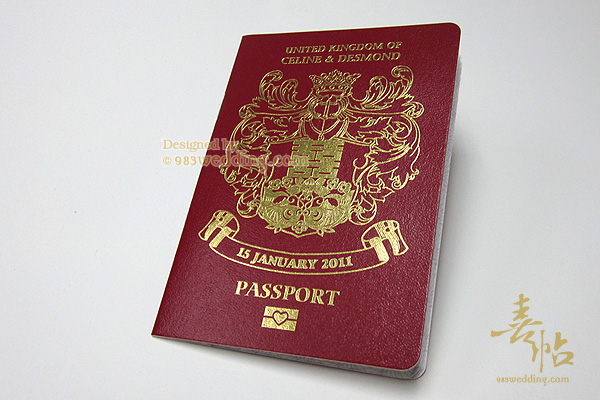 A passport wedding invitation which is just like a REAL passport.
Issue passport wedding invitations to your guests to attend your wedding ceremony/ banquet.
Passport Wedding Invitations – A Unique Design
Brides and grooms are always searching for unique wedding invitation designs. One of the ways of creating a unique design is to borrow ideas from items we can encounter everyday. Everyone will have his / her own passport. You will need it when you are planning to have a trip to other countries. This drives the main concept of the design of this wedding invite.
Your guest will come and share your happiness and joy in your BIG day. Of course it will be extremely perfect if you are going to have a wedding overseas. We attempt to make this passport wedding invitation design look like a real passport. If we make the design like a normal folded wedding card, it will not look like the real thing. As a result, it is not an invitation. It is like a "BOOK" with 8 pages inside. We can print some graphics like chops on the inserts so that the passport design will look even unique. Couples who are going to have a overseas destination wedding will find this design unique and useful.
Although this design fits a destination very well, it does not mean that this design will not suit other types of wedding. The design is so unique that every one will be amazed when they see it. Passport wedding invitations can really surprise your guests! We can create a design according to the location of the wedding. For example, the green color design is created for brides and grooms who are planning to get married in Indonesia. The designs are not confined to the ones shown in the images.
To make the design even more interesting, it is even possible to create some chops. Usually, the guests will be asked to bring along the invitations when they come to your wedding. You can chop the "Passport" using the chops. This gesture will make your wedding even more memorable. Your guests can also keep your invitations for years.
This design can also be used together with Airline Ticket Wedding Invitations. This will be a perfect match and you can invite your guests in a manner of going for a vacation!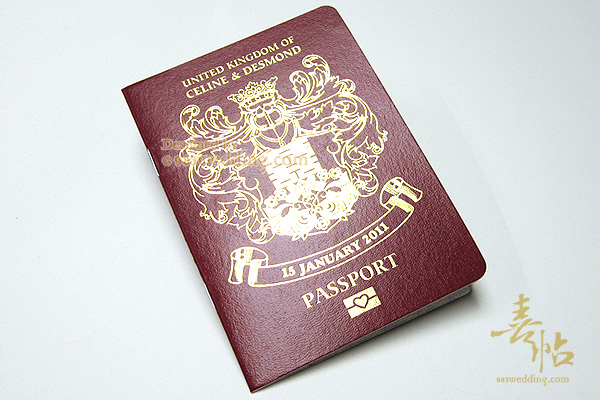 Leather-red color passport cover with gold color hot stamping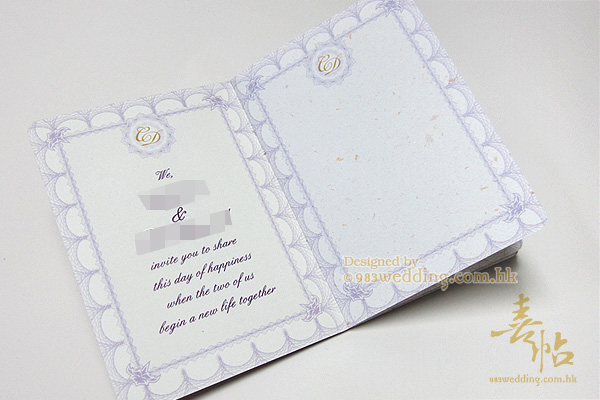 You would add personalize note on the Cover front inside page.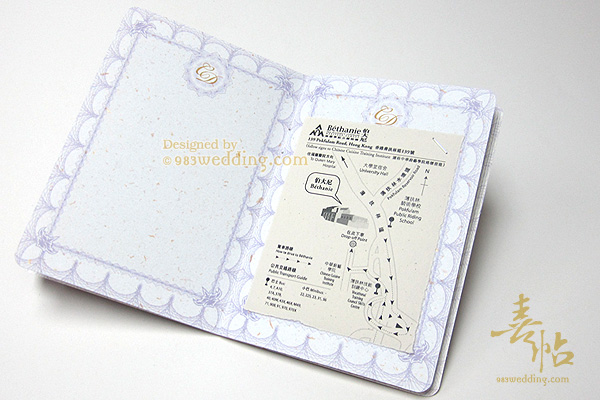 Directory map(with torn edge) would be stapled on passport invitation insert page.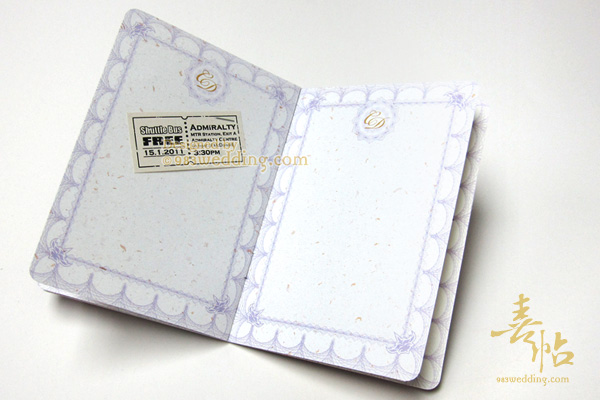 Personalize note would be added and would be stapled on passport invitation insert page.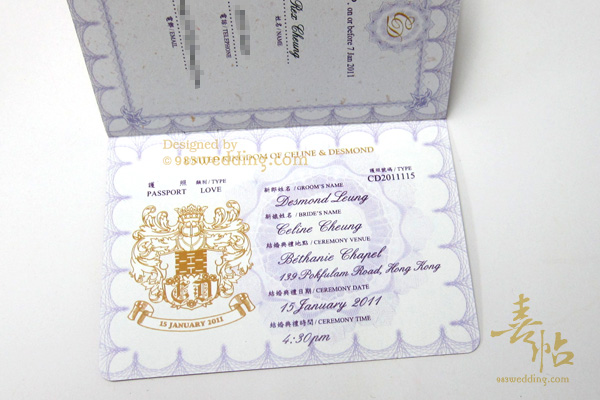 Wedding invitation information printed on passport cover back inside.
Product code: C13007
Size: 88mmx125mm(after fold)
Passport wedding invitations:
cover: red color leather-like paper(with gold color hot stamping) mount with white color paper(with full color printing on ONE side)
Insert: 150gsm sunshine pearlised paper
with full color printing on BOTH sides (2 sheets per set, 8 pages)
Other cover color (red, brown, green, blue or black) are also available: