Overseas weddings are very common nowadays. Brides and grooms will certainly want a really special wedding card design for their destination event. Of course, you will have to arrange for all the flights and accommodations. Your guests will also need to arrange their itinerary and flights in order to go to your event. They will need flight tickets. Therefore, we design this airplane ticket wedding invitations. Guests would be amazed when they receive the airline ticket issued by YOU. The idea of air ticket invitation will also remind your guests of your destination wedding.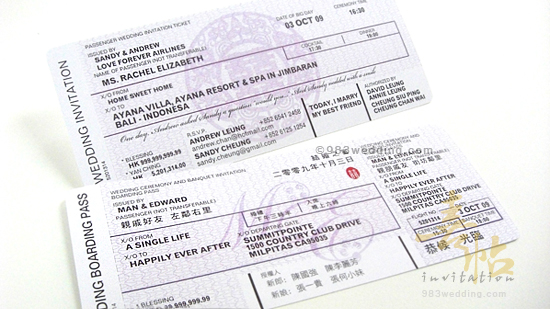 It is very true that some of us will use e-tickets nowadays. Yet, all your guests will realize that they are airplane ticket wedding invitations when they see the cards. The design is very special and this will make all your guests remember your event day. It is possible to use this design even if your wedding is not a destination wedding. You can just go for this design if you want something special. The design of it is so unique that it can be used for any type of wedding theme. In fact, this design will suit you as long as you want something really unique.
Unique Airline Ticket Wedding Invitations
Traditional Chinese elements can also be added in order to make it more unique. It is possible to print a double happiness symbol on the invitations. If you these elements are not needed, we can also remove the double happiness and replace it with your wedding monogram. The basic design of the plane ticket wedding invitations looks like a real ticket very much. Of course, this is not the only option to this end, you may also consider the idea of boarding pass wedding invitations in this case. Although there is a set format of the ticket, it is also possible to change the format according to your needs.
Envelope Design
An Envelope comes with the plane ticket wedding invitations. However, it is also possible to create a folder to hold the ticket. You can print your own monogram to mimic the logo of the airlines on the folder. You can also print your picture or a photo of the destination on the folder. Again, all these small details will make the invitation more unique and personalized. Of course, we will still provide you with an envelope even if you go for the idea of having a folder. It will be easier for you to send the invitations to your guests.
Personalize The Plane Ticket Wedding Invitations
To make the airplane ticket wedding invitations even more unique, the invitation card will be personalized. Yet, the idea of personalization is a bit different here. Each card will be personalized for every guest. This means that the name of individual guest will be printed on the wedding card. This also makes the airline ticket wedding invitation look like a real ticket. As you know, the name of the passenger is always printed on the ticker. This is why we create this design with the name of each guest on it.
---
Invitation Specifications
Product No.: C13006
Sizes
Invitation: 7.8″ (W) x 3.2″(H) (single card)
Envelop: 3.3″ (W) x 8.6″ (H)
Paper Stock
Cover: 250gsm Match Maker paper
Production Detail
250gsm Match Maker paper with full-color printing on ONE side. Each ticket with guest's name printed on it. With round corner and scoring line.