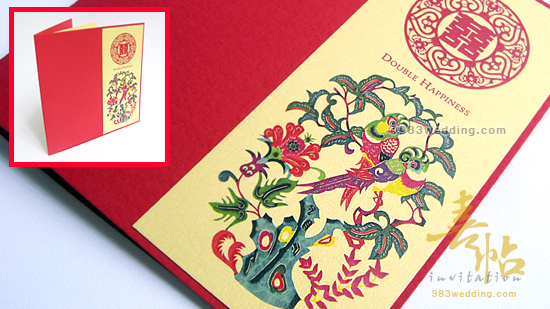 This is a wedding invitation with red color as main color theme. The colorful Chinese paper cutting pattern with a pair of lovely celebrates the union of the couple.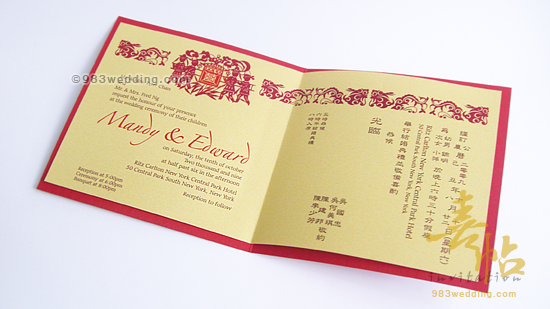 Gold color paper insert with simple phoenix pattern and a team to welcome bride home. (Above: overview of the insert design; Below: details of the insert)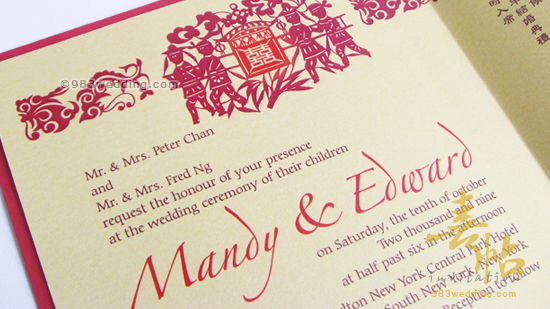 Colorful Modern Chinese Wedding Invitations
This is in fact one of our best selling wedding invitation design. There are brides and grooms who love to have a modern Chinese wedding card design. There are a lot of treatments we can consider when creating such a design. First of all, we decide to choose red as the main color theme of the card, with a piece of gold strip on it. The patterns printed on the strip is very colorful. The patterns are paper cutting designs. There are a double happiness symbol and a paper cutting design with two lovely birds. All these patterns and symbols are meant to be celebrating the wedding of the couple. The colorful pattern, with the main red color theme, deliver a modern quality to this Chinese wedding invitation card.
Design of The Insert
Now, let us talk about the design of the insert. It is gold in color. The weight of the paper is 120gsm. Beautiful pattern are printed as a border on the top of the insert. In fact, wedding invitation inserts are something important in order to make the design beautiful. There are some simple phoenix patterns. The border in fact features a team of people are going home with the bride (denoted by the double happiness symbol). In fact, this signifies that the bride is going to the home of the groom and they will get married.
All the colors used are brown and red colors. This reminds us about the idea of Chinese wedding tradition. And it echoes with the whole design of the invitation!
---
Specifications – Welcome Bride Home Chinese Wedding Invitation
Product No.: MC18035
Sizes
Invitation: 5.9″ (W) x 5.9″(H) (single card)
Envelope: 6.30″ (W) x 6.3″ (H)
Paper Stock
Cover: 210gsm red color paper with gold color pearlised paper strip
Insert: 120gsm gold color pearlised paper
Production Detail
210gsm red color paper mount with 250gsm gold color paper with insert in full color printing on ONE side.
Remarks
Return address would be printed on invitation and R.S.V.P. envelop on requested.
Place card, menu, church program & thank you card would be order with same design.
Discounted price: USD 150.00 for 100set invitation cards with envelops