Modern pink color double happiness with lovely butterflies singing around to celebrate the joy of marriage. Ribbon of the same coloradds a human touch to this invitation.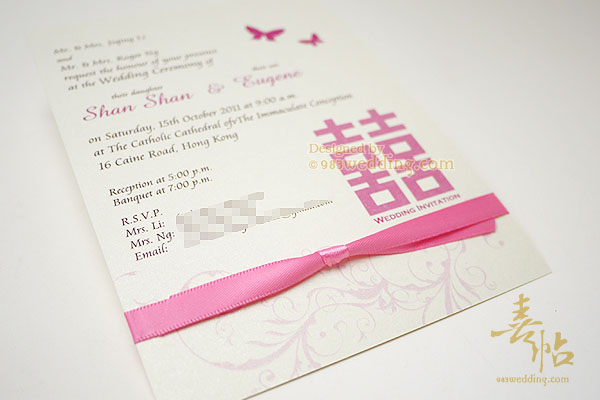 Pink Color And Butterflies – A Perfect Match
The pink color is always thought to be a very romantic and sensual color. It is very popular when it comes to the color theme and scheme of wedding invitations. This wedding card is also pink in color. We have created this invitation by using different tones of pink. With the idea of wedding butterflies and double happiness, this design is perfect for every bride.
The design of this card is simple. In fact, we do not want to make this design fancy. Instead, we would like to deliver a sense of romance and celebration. As you will not, a pair of butterflies is something very romantic. As a result, we put a pair of butterflies on the card. The butterflies are flying together on the wedding invitation, signifying that the bride and groom will have a very happy life.
At the bottom of the card, there is also a very link pink color floral pattern. Besides, we try to add a second focus to the card. A double happiness symbol, also in pink color, is printed on the bottom right side of the card. Since we do not want to make the card too complicated, we use a very simple double happiness with only straight lines. To make the names of the couple to stand out on the card, we also print the names of them in pink, while the color of the other part of wording is black in color.
Adding a ribbon to a wedding card can add a human touch to it. The ribbon on it makes this card totally perfect. Brides and grooms will certainly love this add-on.
Product code: SC5302
Size: 125mmx175mm(single card)
Card stock: 250gsm creamy color pearlised paper
with full color printing on ONE side and tie with pink color ribbon
with envelop
Discounted price: USD 100.00 for 100set invitation cards with envelops