Dark chocolate brown color wedding invitation is not commonly used in Chinese invitation. This is an attempt to create something which is really unusual. This chocolate color Chinese design will really amaze your guests when you send the invitations to them!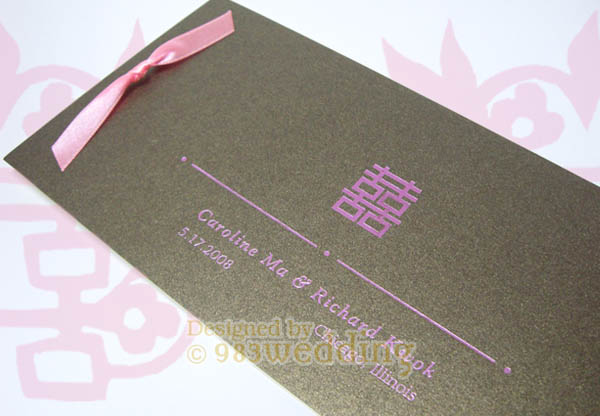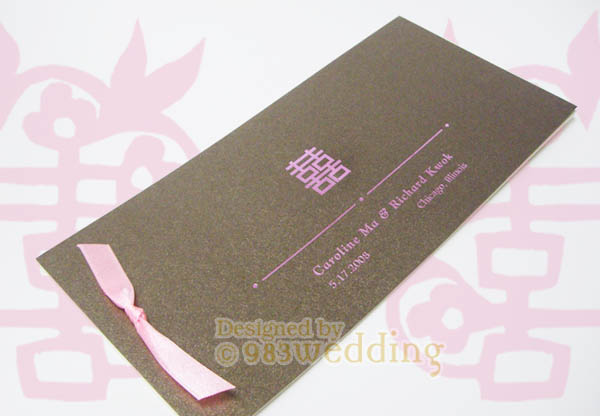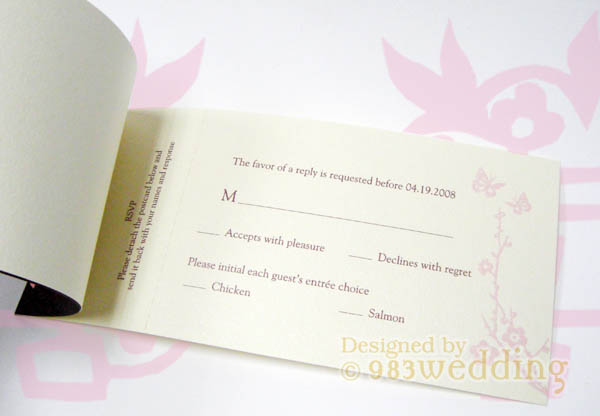 Although we categorize this design as a Chinese one, it does not look like one at the first glance. This is mainly because of the choice of color and the design treatment. The color of paper stock chosen for this design is dark chocolate brown. The modern treatment of the invitation with shocking pink foil printing on this piece of chocolate brown pearlized paper makes this Chinese design very special. The design of this Chinese brown wedding invitation is not fancy. It is in fact a simple design. The double happiness symbol on it is very simple in a sense that it comprises only straight lines. We do not use any paper cutting pattern design when designing the cover. The date and names of the couple also appear on the cover. They are printed in shocking pink color, which is the same as the double happiness symbol.
To accommodate all the information of your wedding, there are a few pages of cards. A pink color ribbon is used to tie all these pages. Although the covers of the brown wedding invitations are in chocolate color, the other pages are in pearl color. The color of wording is also in dark brown color. You will print the information of your wedding (and maps and reception details for examples) on these pages. This will create a happy atmosphere for your big day!
As discussed, there are a few pages. One of the pages is the R.S.V.P of the wedding card. Therefore, it will be neater and more organized. Your guests will just need to tear RSVP card out. Then they can just fill in the information and mail it back to you. We can add even more pages to the design so that you can put more information on it!
---
Invitation Specifications
Product No.: MC18019
Sizes
Invitation: 8.27″ (W) x 3.9″(H) folded
Envelop: 8.66″ (W) x 4.3″ (H)
Paper Stock
Cover: 250gsm dark chocolate brown color pearlised paper
Insert: 300gsm Creamy color paper
Production Detail
Cover: Pink color hot stamping (foil printing) on dark chocolate brown color pearlized paper
Insert: 300gsm Creamy color paper with full-color printing on ONE side.
RSVP: 300gsm Creamy color paper with full-color printing on BOTH sides.
Remarks
Return address would be printed on invitation and R.S.V.P. envelope on request.
Place card, menu, church program & thank you card would be ordered with the same design.