Chinese people believe marriage is for the lifetime. Therefore, there are lots of good wishes for the couple such as "執子之手 與子偕老" (Literally means "to hold your hand and become old together"). This phrase becomes the main theme of this trendy invitation design.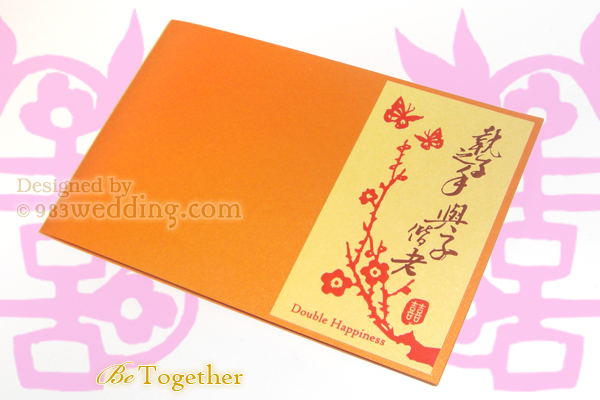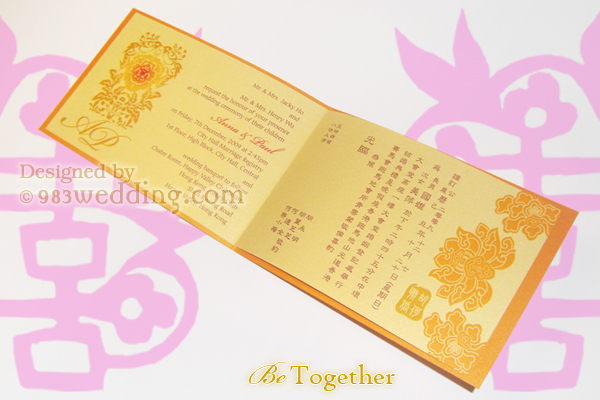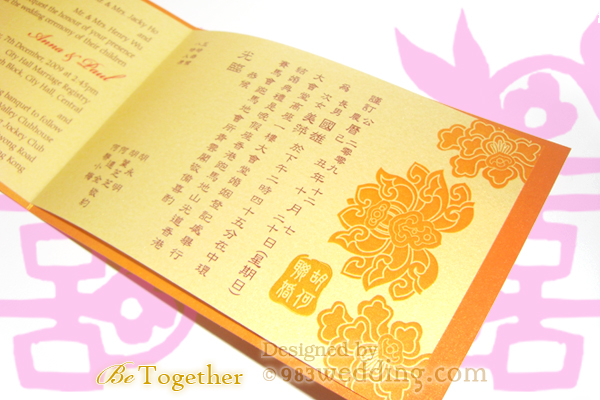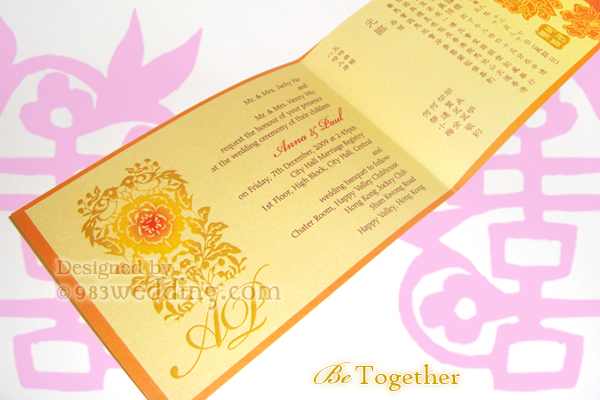 Beautiful Orange Wedding Invitations
A very sharp color – orange color is used to create an atmosphere of celebration of this wedding invitation design. To this end, a piece of orange pearlized paper is used as the material for the cover of the design. We will say it is something very Chinese but it is not in RED. In fact, having a Chinese design style does not necessarily mean that it has to be red in color. This is the essence of the design.
Although the orange color is perfect to deliver a sense of celebration, it will not be enough when we are trying to make the design a modern Chinese one. As a result, a small piece of gold color strip is used. It is mounted on the cover. Without any surprise, some patterns which remind us of wedding celebration will be printed on it. Butterflies and cherry blossom and double happiness patterns are really perfect to this end.
Besides all the patterns described above, the phrase "執子之手 與子偕老" is also printed on the strip. As mentioned, this phrase means that the bride and the groom will be holding the hands of each other and become old together. They will be holding the hands of one another for the rest of their lives. This is certainly a blessing for the couple.
The insert is gold in color. However, instead of printing red color patterns on the insert, the orange color is printed. This will echo the main idea of orange wedding invitations. Of course, that will also echo the color of the cover. So, you will be able to see beautiful abstract floral patterns in orange color on the insert.
Apart from the above, the family names of the couple, in Chinese, can also be printed as a pattern on the insert. The treatment here is to make the names look like a traditional Chinese stamp or chop. The orange color makes this classic treatment trendy!
---
Invitation Specifications of Orange Wedding Invitations
Product No.: MC18033
Sizes
Invitation: 5.91″ (W) x 3.94″(H) (after folded)
Envelope: 6.30″ (W) x 4.33″ (H)
Paper Stock
Cover: 250gsm orange color pearlised paper
Insert: 120gsm gold color paper
Production Detail
Cover: mount with 250gsm gold color paper strip
Insert: 120gsm gold color paper with full-color printing on ONE side glued to the card inside.  
Remarks
Return address would be printed on invitation and R.S.V.P. envelope on request.
Place card, menu, church program & thank you card would be ordered with the same design.