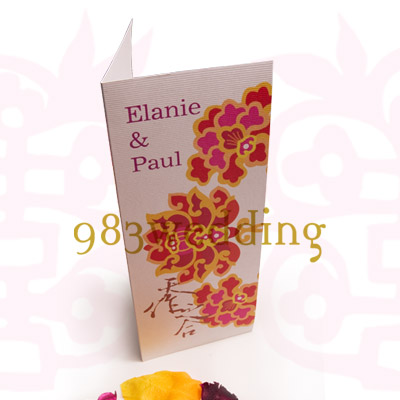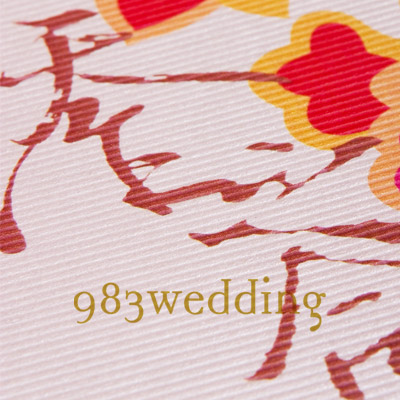 An elegant design comprising Chinese calligraphy and abstract floral patterns
Details of the Design
Do you want to wedding invitation in an elegant Chinese style and amaze your guests? If your answer is a YES, this invitation will fit your needs very well. This Chinese design is unique and at the same time not extremely traditional. The design is Chinese yet with a really modern touch. It will fit weddings of various themes.
A long portrait proportion is used to create a sense of elegance. Instead of using traditional red color, the color of the material is silver. This is done in order to create a modern touch to the design. The paper also bears a quality of metallic touch, with strip patterns on it. This enhances the dimension when your guest touches the wedding card. Tradition Chinese style floral patterns with main Chinese celebrating color – red color – is printed on the card.
The combination of silver and red is excellent to express the quality of modern Chinese design. A lovely blessing is also printed on the invitation. The Chinese characters "天作之合" (a match blessed by the heaven or marriage from heaven) are printed on the card as well. These four characters are printed in calligraphic style. Without any surprise, the calligraphic style of the words will give us a sense of being Chinese. This calligraphic style also goes very well with the abstract floral patterns. This will bring a sense of elegance to your guests.
This is a folded card, meaning that you will have space to include both Chinese and English wording. It is excellent for brides and grooms who need a bilingual wedding card.
It is always a good idea to let the guests to see the names of the bride and groom once they receive the wedding card. It is one of the ways to personalize the wedding cards. The names of the bride and groom can be printed on the cover to personalize the wedding invitation.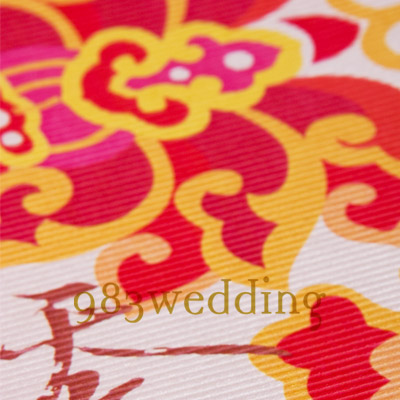 ---
Product Code: 01_010003_01
Type of card: Folded Card
Size of the Wedding Invitation (after folding): 92mm(w) x 245mm(h)
Material: 250gsm silver pearlized paper with strip patterns
Description: Full color printing on one side on the cover, with full color printing on one side on the insert.