When people get married, they and their family are filled with joy. The joy will be enhanced with this beautiful modern Chinese wedding invitation design.
This is the red color version of the design Mui Blessing. The off-white color version is considered a more western design with a Chinese touch. However, some of you may not want a white color invitation. This is the reason we create this red version.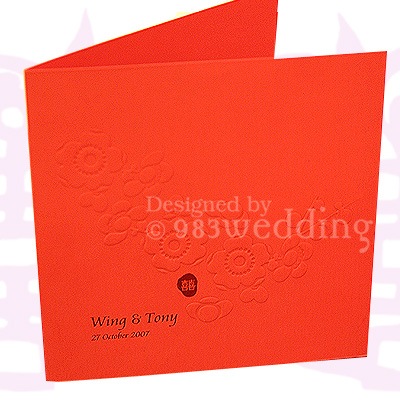 With traditional Chinese color of celebration – red, the design gives you a traditional yet new modern feeling. This invitation would properly give your guests a surprise when you send it to your friends and family members.
The treatment of this invitation is basically the same as the pearl / white color version of the card. The pattern of cherry blossom is embossed to give a raised effect. And the name of the bride and groom, wedding date, as well as a double happiness symbol is printed on the cover with shiny red color foil.
In fact, this treatment is a bit different from the white color version. You may wonder why the idea of red-on-red is adapted. In fact, this treatment helps make sure that the design will not look like an old-fashioned wedding card design. Usually, people will go for gold color printing when the card is red. We choose shiny red foil printing on the card instead. We have chosen the printing method very carefully to make sure that your guests will be able to read the names and also recognize the double happiness symbol. The notion of red-on-red will render the design a more modern look. Printing shiny red color on a piece of a red card makes the design more classy.
Compared to the white color version, this design looks more Chinese (though it is still very modern) in a sense that it is mainly red in color. Since the name, date and double happiness are printed in red, the contrast of the print and the card mainly comes from the shininess. This subtle contrast creates a modern sense to the traditional design idea.
---
Invitation Specifications
Product No.: MC18005
Sizes
Invitation: 5.9″(W) x 5.9″(H) folded
Envelop: 6.2″ (W) x 6.2″(H)
Paper Stock
Cover: 330gsm P-like RED color paper
Insert: 120gsm gold color paper
Production Detail
Cover with embossing and red color hot stamping (foil printing); 120gsm gold color paper with deep gold color hot stamping (foil printing). Insert glued on the card inside.
Remarks
Return address would be printed on invitation and R.S.V.P. envelop on requested.
R.S.V.P. card, place card, menu, church program & thank you card would be ordered with the same design.