It is always a good thing to let your guests leave you a message in your wedding reception. However, it is not so easy to find a good guestbook to show your character. Again, it will be even harder for a Chinese style wedding. In view of this, we create this design to help you.
Of course, this is an exquisite guestbook suitable for any type of weddings. Yet, it will even be better if you have decided to go for our Happy Mandarin Ducks Forever design for your wedding card. This is because the design of this guestbook matches the design of this wedding invitation.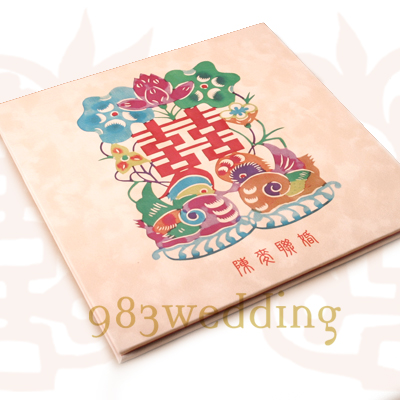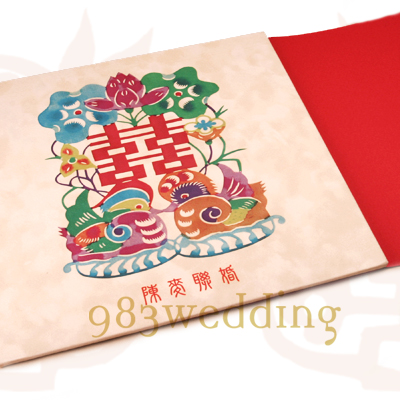 The guests can see the cover when they are signing or leaving messages.
A Modern Chinese Guestbook
As mentioned, the design of this guestbook is in Chinese style. A pair of Mandarin ducks is printed on the cover. It is to express the notion that the bride and groom will be a couple forever. For the choice of material, the printable flock is used as the material for the cover. We also provide other options for materials for this guestbook. It is possible to use golden or pearl color paper to make the cover when requested.
Insert of the Guestbook
When it comes to the insert, it is red in color. Usually, a guestbook is really a book, with 10 or 20 pages. However, the treatment of the insert is different from this norm. It is mainly because we would like to keep the Chinese style. Traditionally, the guests will sign on a piece of scrolling cloth or paper. In order to retain a similar idea of scrolling. We adapted the idea of folding. The insert can be 8 fold or even 10 fold, depending on the number of guests. You can unfold the insert and put it on a long table. A few people can be signing at the same time. They will be able to see the cover design while they are signing. The notion of Chinese style also explains why the insert is red in color. Since the insert is red in color, signing on it with black, silver or gold pen / marker will be perfect!
The shape of the original design is a square. A rectangular shape can also be made if it is needed. Please contact us if you have any special requirements for the design or treatment.
---
Invitation Specifications
Product No.: G1001
Sizes
Size: 9.8″(W) x 9.8″(H)
Paper Stock
Cover: Printable flock paper
Insert: red color paper
Production Detail
Printable flock paper with full color printing on ONE side, red color folded insert.
Remarks
1. Name & date would be printed on the cover
2. Colors of the cover and insert material can be changed on request.