Chinese Wedding Card With Mandarin Ducks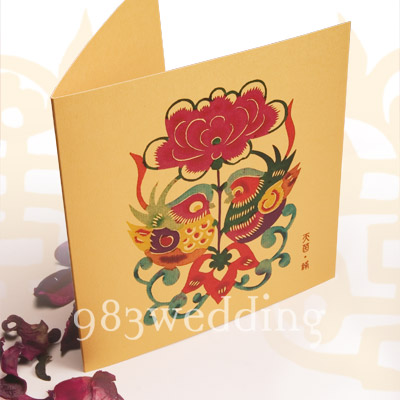 The Legend of Mandarin Ducks
In Chinese culture, it is believed that mandarin ducks would only stay with one partner in the whole life. They would never fall in love with anyone else in their whole life. Therefore, when Chinese people celebrate the wedding of a couple, mandarin ducks are commonly used to decorate the venue in order to symbolize the couple who are in love with each other deeply and would stay together forever. In fact, this legend has also become the basic plot of love stories. So, we adapt this idea of mandarin ducks and make them become the "plot" of this design.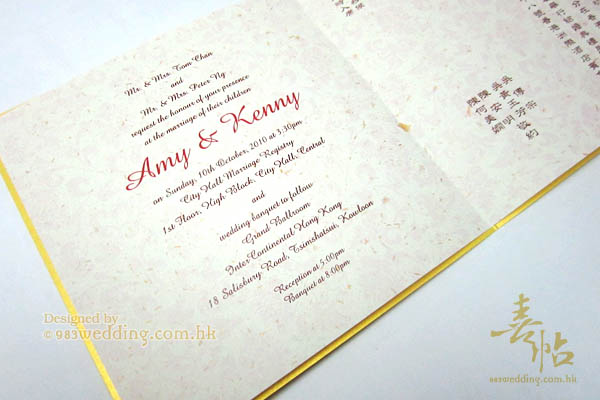 A Unique Invitation to Celebrate your Wedding
In order to celebrate the wedding of the couple, we have created this unique design. As mentioned, the legend of mandarin ducks is the focus of this design. A pair of lovely mandarin ducks is printed on the cover of this wedding invitation. They are kissing each other. This is actually the focus of this design. You will also kiss your another half every day, no matter it is before or after your wedding. This makes the design more romantic. It will certainly signify the love between the bride and the groom.
Apart from the kissing mandarin ducks you can see on the cover, you can also see the lotus. This is another blessing in Chinese culture. The names of the bride and the groom, in Chinese, are printed on the right side of the pair of mandarin ducks. We do not make the names too prominent here. We just make it subtle when we print the names. This will ensure that the lotus and mandarin ducks are the real focus of the invitation. When it comes to the material of the card, it is gold in color. The card will look more Chinese when this color is chosen. It is possible to change the color of the paper. For instance, changing the paper stock to off-white color can make the design look less traditional but more modern. The use of paper stock in other colors is also possible. For the insert, it will be glued on the cover inside. We can also use a piece of golden or silver color string to tie the insert to the cover.
---
Invitation Specifications
Product No.: MC18009
Sizes
Invitation: 5.8″ (W) x 5.8″(H) folded
Envelop: 6.2″ (W) x 6.2″ (H)
Paper Stock
Cover: 250gsm gold color paper
Insert: translucent tracing paper or white gold color paper
Production Detail
Cover and insert with full color printing on ONE side
Remarks
R.S.V.P. card, place card, menu, church program & thank you card would be ordered with the same design.
Return address would be printed on invitation and R.S.V.P. envelope on request.