A pair of mandarin ducks symbolizing the couple
Paper Cutting Mandarin Ducks
This is a Chinese wedding invitation design which features a beautiful paper cutting pattern. It is a colorful pattern with two mandarin ducks (鴛鴦). These mandarin ducks are playing together as a couple. In fact, the idea of having a pair mandarin ducks is something very meaningful for a design of invitation in Chinese-style. It is believed that they are always in a pair in Chinese culture. So, you should be able to guess the reason of having them on an invite design here. The main concept behind is that the madarin ducks signify that the couple will always be together for the rest of their lives.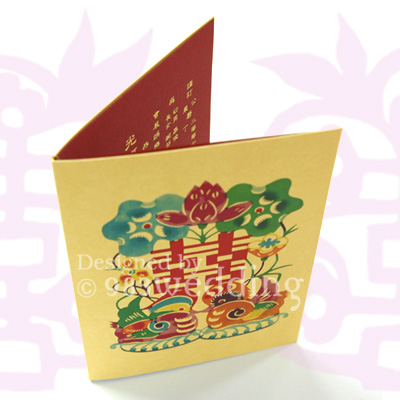 Cover design – Happy Mandarin Ducks Forever
Double Happiness and Lotus
Although the treatment of this design is not very traditional, we will still say that it is very Chinese. We have also put a double happiness symbol in this design besides the mandarin ducks. Without any surprise, it is not uncommon to see this symbol in our Chinese invitation designs. Lotus can also be seen on the cover of the card. In Chinese culture, lotus means fertility. This is also a symbol to bless the bride and groom. With all these patterns and symbols, this invitation card expresses the best wishes to the newly-married couple to stay in love forever.
Colors and Treatments
We have kept the more traditional colors of red and gold in this design. The paper stock for the cover is gold in color while the stock for the insert is red in color. The paper cutting pattern, double happiness and lotus on the cover are printed with full-color printing. As per the insert, gold color foil printing is used. This is mainly for the contrast between the wording and the red color of the insert. This type of color combination is very traditional in terms of wedding invitations. They are the colors of celebration.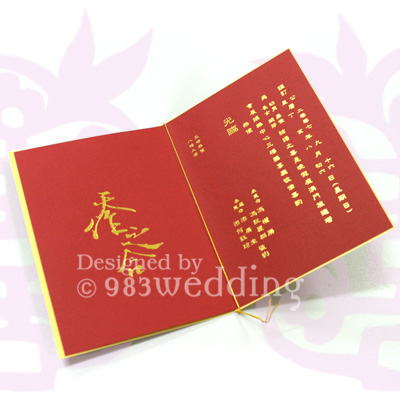 Insert of the card
---
Invitation Specifications
Product No.: 01_046016_01
Sizes of the wedding card and envelope:
Invitation: 125mm(W) x 175mm(H) folded
Envelope: 135mm (W) x 185mm (H)
Paper Stock
Cover: 250gsm gold color paper
Insert: translucent tracing paper or freelife M. Red color paper (recommended)
Production Detail
Cover: full-color printing on ONE side
Insert: full-color printing on tracing paper / pearlized color paper; alternatively, it can also be gold color hot stamping on freelife M. Red color paper.
Remarks
1. With silver or gold color strings
2. Chinese and English languages are printed on the insert (any two languages can be printed). If only one language is needed, some blessing words can be printed on the insert.
3. R.S.V.P. card, place card, menu, church program/order of services, guestbook & thank you card would be ordered with the same design.
4. Return address would be printed on R.S.V.P. envelope on request.