A small detail can make a big difference. A lot of brides and grooms may ignore the small details of their wedding stationery. Your invitations would be perfect by just adding a beautiful sticker on it. We have designed a few stickers and tags for you to enhance the elegance and beauty of your wedding cards. Usually, you can stick the tag on the opening of the invitation envelope. These stickers will be perfect for your Chinese wedding invitations.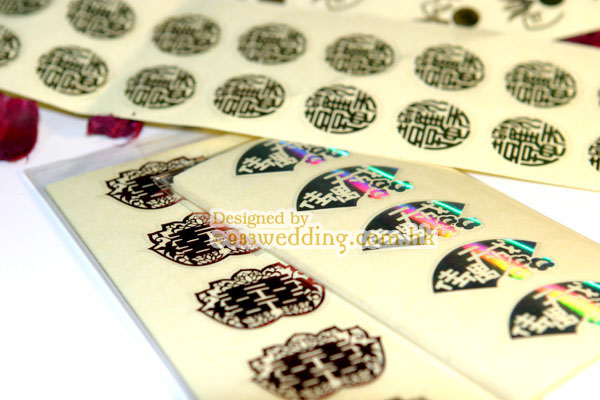 Beautiful Wedding Stickers
There are three designs for these stickers:
1. Chinese double happiness symbol with good wishes and blessing would be a good choice for your wedding sticker. This design is quite self-explained. The symbol is always a blessing to the couple;
2. Another design is with the Chinese characters "佳偶天成". These four Chinese words mean that the bride and the groom are a perfect match by the heaven. They are also common words that Chinese people will use regarding a wedding or marriage; and
3. Circular design with the words "歡天喜地". Literally, they mean both haven and ground (earth?) are happy. What they actually mean is that everyone is happy, even the heaven feels happy.
Colors of the Stickers
The stickers are transparent. The patterns are printed on them with foil printing. For the first design, there are red, gold and silver color prints. For the second one, it is silver in color. And the third one is gold in color. As you can expect, stickers in red and gold colors will look more traditional while stickers in silver will look a bit more modern. Because they are printed with foil, the prints deliver a shiny quality. Your guests will be amazed when they try to open the envelope.
Apart from the above, you can also put the stick on the front of the envelope. This can make the envelopes look more beautiful (if you have opted for plain envelopes). In fact, it is possible for you to apply the tags to other wedding items. For example, you can put the stickers on the packages of the wedding favors. You can also use the design of these stickers as an element to decorate the venue. You can also use them to highlight the head tables of your seating plan. We can help you to help the design to your wedding items such as photo backdrop or seating plan.
Custom Wedding Stickers
If you have your own monogram or logo, we can also print it on the stickers. In this case, you can have your own personalized tag. This will make your wedding stationery even more unique and special. Be sure to contact us early if you want to have your own personalized tags!