There is a legend that lovers met each other because of a love message in a glass bottle. Even they are far apart from each other, lovers would meet and know each other. And the message in a bottle wedding invitation celebrates this romantic and sweet idea of being together.
The unique wedding invitation recalls this legend with modern design elements: red strings tight the couple together with double happiness sign. An insert with a special design gives the invitation a really unique character.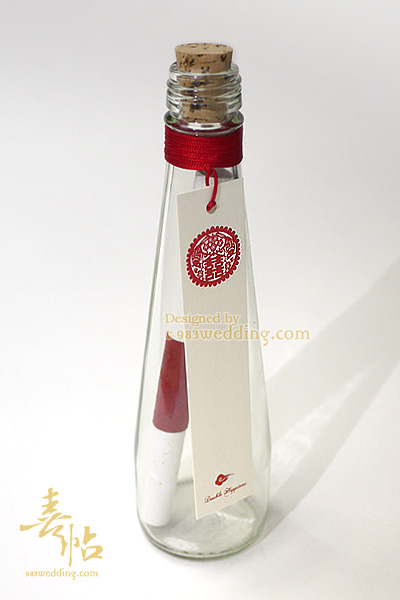 A Bottle, An Invitation
In fact, there are a lot of brides and grooms who do not want to go for a simple printed wedding card. There are quite a number of options in this case. One of the ways is to think out of the box and create something which is totally different from what we usually see.
One of the ways to make the invitation special is to make it 3-dimensional. It is very true that a lot of brides and grooms would like to have an invitation which can deliver a 3-dimensional quality. Yes, by making the invites 3-dimensional, it will be certain that you can amaze your guests. All the guests will say "WOW" when they receive this specially designed wedding invitation!
The main element of the design is the glass bottle. So, without any surprise, it is 3-dimensional in nature. A lot of red color is used in order to add some spice to this unique design. A tag is tied to the bottle. The string tieing the tag is red in color. A paper cutting pattern of double happiness symbol, also in red color, is printed on the tag. The paper stock used for the tag is white color pearlized paper. You can write the name of your guest on this tag.
When it comes to the insert of this design, it is rolled and put into the bottle. There is a deep red color paper ring to hold the shape of the role. The wording and content are printed on the insert. Cherry blossom and double happiness are printed along with the wording. The cherry blossom pattern is in pink while the double happiness symbol printed on the insert is in red. This will make the insert look more elegant and beautiful.
Some brides and grooms may worry that they cannot easily deliver the wedding invitations to their guests in this case. As a result, we do not just use the bottle as the invitation. We have also created a paper box for eat bottle can be ordered with these invitations. With these boxes, it will be easier to send these "message in a bottle wedding invitation" to the guests.
This design is certainly unique. Without any surprise, different couples will have different wedding themes. Yet, this design will probably suit all types of themes.
---
Message in a Bottle Wedding Invitations
Invitation Specifications
Product No.: C13005
Paper Stock
Tag: Creamy color paper
Insert: 100gsm sunshine pearlized paper
Production Detail
Tag and insert with full-color printing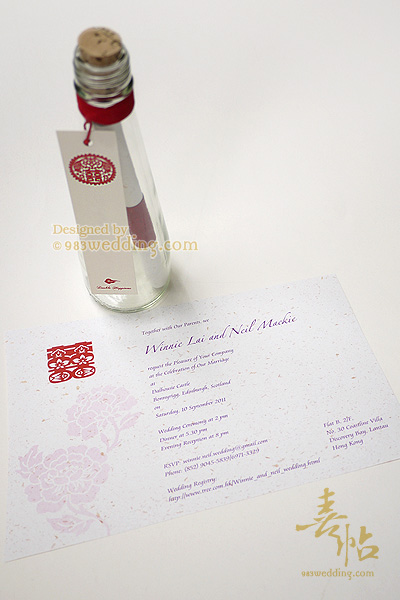 (The bottle, with the insert of the invitation)