Chinese believe that when these two birds are singing and dancing on a plum blossom, it will bring people with good fortune. In fact, it is also a signal to let us know that Spring comes, which bears an underlying meaning of fertility. So, as you will see here, this design is all about good fortune and fertility.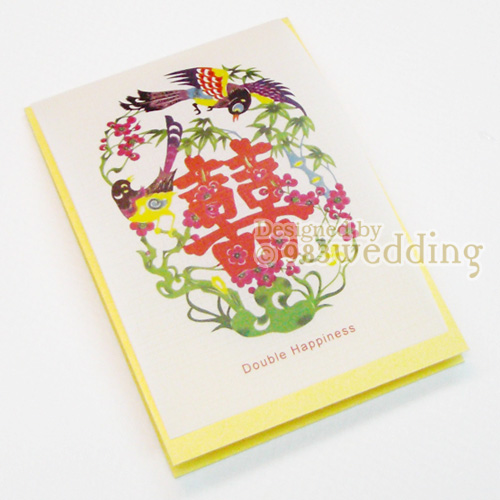 The design of this wedding card is based on the above-mentioned idea. As a result, the paper cutting pattern with two birds dancing on a plum blossom is used. This pattern is the main graphic element of the whole design and it is printed on the cover of the card. At the center of this pattern, a double happiness symbol will be seen. This further signifies the idea of getting married and being together. This also reinforces the idea that it is a blessing to the couple and it is a wedding invitation!
For the actual design treatment of the card, we have tried to play around with the materials. Usually, tracing paper will be used as the insert of the wedding card while a gold color piece of card will be the cover. Yet, we attempt to try something different here. We challenge this conventional idea of having a piece of tracing paper as the insert. We turn this more conventional treatment around. In this design, the tracing paper is the cover while the gold color card is the insert. Here, we retain the usual thickness of the two materials. This means that the cover will be thinner than the insert. This creates a very interesting and elegant contrast. The contrast is not something you can usually see from other wedding invitation templates or designs. Since the tracing paper is translucent, you can see a bit of gold color underneath the paper cutting print. This makes the design even more interesting and unique.
We can also make this as blank wedding invitations. This means that we will only print the cover. We will leave the insert blank. You can write your own wording by hand. It can be perfect if you only need a few cards (only 5 cards, maybe). It will be perfect if you want to personalize the wording for each guest. Please contact us if such blank wedding cards are needed for your wedding!
---
Invitation Specifications
Product No
.: MC18016
Sizes
Invitation: 3.5〃(W) x 5.1〃(H) folded
Envelop: 3.7〃(W) x 5.3〃(H)
Paper Stock
Cover: Tracing paper
Insert: 250gsm gold color paper
Production Detail
A. Full-color printing on one side on the cover (tracing paper)
B. Full-color printing on one side on the insert (gold color card, for the printing or content and wording)
Remarks
Return address would be printed on invitation and R.S.V.P. envelop on requested.