Simple personalized wedding invitation with Western-Chinese style, the border symbolizes a container of love, which delivers the notion of embracing the love of both the bride and groom. The sharp red color double happiness is the focus and center of the design. It also creates a happy atmosphere for the guest.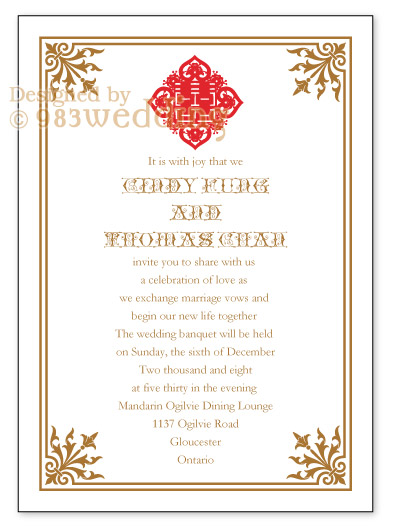 A Western-Chinese Invitation Design
It is common to see a border on a western wedding invitation design. This type of treatment is not that common when it comes to a Chinese wedding invitation or Asian invitation design. For wedding card in Chinese style, it is extremely common to see the symbol of double happiness. In fact, the double happiness has become a symbol of a wedding in Chinese culture. The aim of this design is to combine this symbol with the treatment or idea of using border together. Basically, you will see the Chinese "Double Happiness" symbol. You will also see a more western-style border. This creates a new Western-Chinese invite.
The border is in a classic western style. Actually, you may even have seen something similar before. Inside the border, there will be the double happiness symbol and the wording. As mentioned, the double happiness is red in color. On the other hand, the border is brown in color. We choose this as the color of the border so that there will not be a big contrast between the Chinese and Western elements in terms of color. The double happiness is not presented as a simple Chinese character here. It is somehow in the form of a paper cutting pattern. This paper cutting pattern will echo in an interesting way with the western style border. For the wording, the color of it is the same as the border. This is a traditional treatment for more western designs. The font of the names of bride and groom is in a vintage style. Again, this is all about the contrast between old and new, and between Chinese and Western styles. A 300 gsm paper stock is chosen as the paper stock for this design. It is also possible to print the design on paper stock in other colors. It is also possible to print it on a really thick card stock. Please contact us for more details.
Invitation Specifications
Product No.: SC52293
Sizes
Type of Wedding Card: Single Panel Invitation
Invitation: 4.9〃(W) x 6.9〃(H)
Envelop: 5.3〃(W) x 7.3〃(H)
Paper Stock
Card: 300gsm creamy color pearlised paper
Production Detail
Card with full color printing on ONE inside.
Remarks
Optional: Addresses printing on the envelopes (individual address of each guest).