This lovely wedding invitation is composed of two different colors of pearlised paper. One piece is of creamy pearlised color and the other one is of yellowish gold color. The creamy one is printed with beautiful pattern in Chinese style. The color of the pattern is very eye-catching. And a double happiness symbol is put to create visual focus of this wedding card.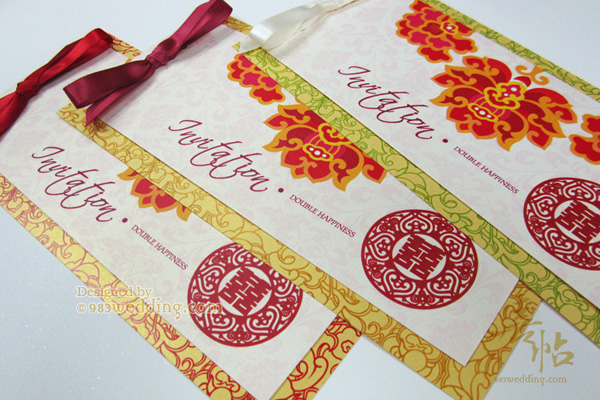 Cards with three color scheme to give more color combinations for couples to have their preference color.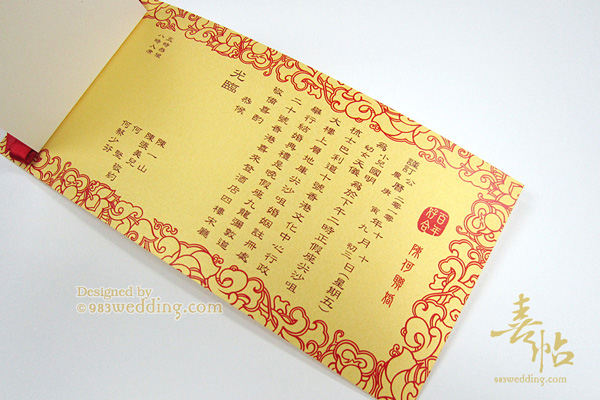 Gold color pearlised paper printed with colorful border gives the joyful atmosphere to the guests. English or Chinese content will be printed on it.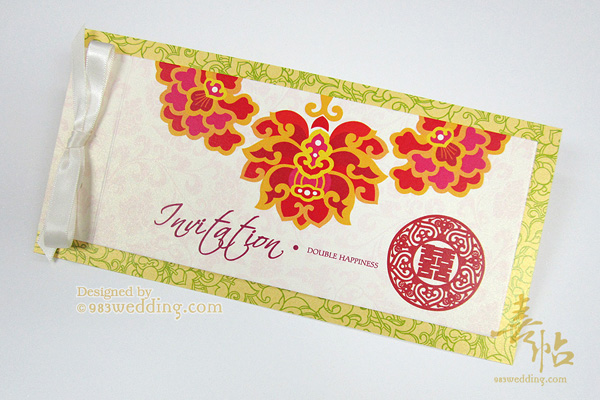 One of the version is with apple green border and ivory color ribbon. This will give a more modern Chinese sense to the invitation.
This is another Chinese wedding invitation couples will love. The treatment of it is somehow between a folded card and a single panel color. The cover of the invitation is in ivory color. A beautiful floral pattern, in Chinese style is printed on it. This pattern is not enough in order to create a Chinese design. A deep red color double happiness is also printed on the cover. Besides these patterns, the word "INVITATION" is printed on it with a very beautiful and elegant font.
The other part of the design is gold in color. Chinese style border is printed on this part. Various colors can be chosen to this end. You can print it in red or green. The wording, in one language, will also be printed on this part.
A ribbon is used to tie the two pieces of cards together. If you want to make it look really Chinese, a deep red color ribbon can be used. To add a bit of western taste to it, a white color ribbon can be used to tie the cards.
Specifications of the design:
Product code: MC18039
Size: 100mmx210mm
Paper: 250gsm creamy color pearlised paper with 250gsm gold color pearlised paper
With ribbon