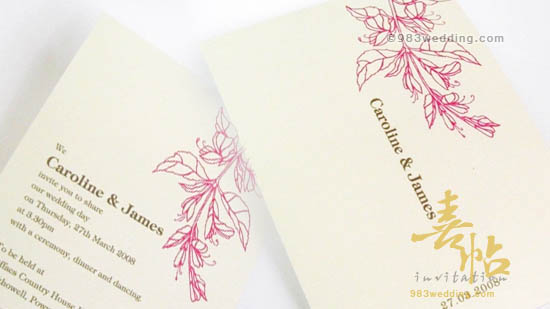 The main feature of this wedding invitation is the floral pattern. This pattern is pink in color. The flowery pattern is simple but elegant. Because of the color contrast between the pattern and the paper used, the pattern itself has also become the main focus of the design. It is a lovely wedding invitation design.
This is a very simple yet elegant design. The design consists of two main elements – the pink color and the floral pattern. It is a pattern which depicts blossomy flowers. The pattern is in pink color for two reasons. First of all, pink is usually considered a romantic color. The use of pink is to create a sense of romance. On the other hand, as mentioned, the use of pink creates a contrast such that the pattern can become the main feature of the design. This invitation is a great choice for a Spring wedding invitation. Of course, it can virtually fit all types of weddings. The color of the wording is simple gray or brown color.
For this particular design or wedding card, we print on both sides. One side contains the names of the couple and the floral pattern while the wording is on the other side. We understand that brides and grooms will want to make the side with wording more elegant. As a result, we print the floral pattern again on this side. It is also in pink color. Of course, the position of it will be different from that on the other side in order to accommodate all the wordings.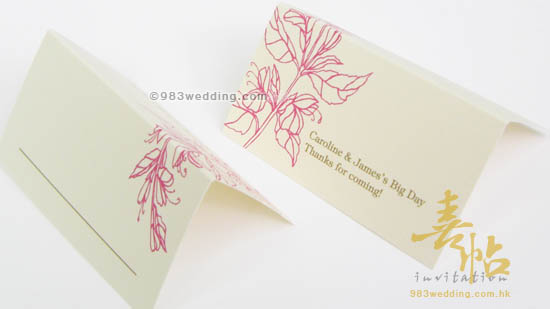 Place card with same design.
Without any surprise, the design can be carried through all your wedding stationery items. It is possible to make place card with the same blossomy flower design. It can be seen from the above image that the design of the place card also comprises the floral pattern. In fact, this pattern will be used for all the stationery items such as the R.S.V.P. card, menu and reception card. This is how we will create a whole set of stationery with this design.
If you need 2 languages of invitation wording, there is also a way to accommodate all the contents in this design. The side for "name & date" would be replaced by another language of wording if it is needed. However, this will mean that you will not have the "card front". Be sure to consider this point before you go for the option of having a bilingual card with this design.
---
Invitation Specifications
Product No.: SC52298
Sizes
Invitation: 6.8″ (W) x 4.9″(H) (single panel card)
Envelope: 7.3″ (W) x 5.3″ (H)
Paper Stock
Cover: 300gsm TP creamy color pearlised paper
Envelope: 120gsm ivory color pearlised paper
Production Detail
300gsm TP creamy color pearlised paper with full color printing on BOTH sides